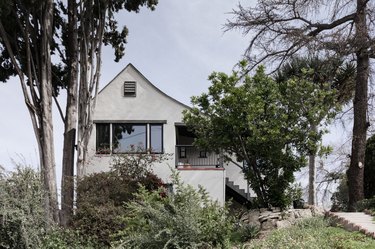 According to a recent study by SoFi, a whopping 61% of millennials surveyed have delayed buying a home because of their student loan debt. "Student loan debt can be crushing for millennials," says agent Parisa M. Afkhami of Warburg Realty. "They must balance their future plans with past and future educational and career choices. Many become serial renters, and with rising rents, continue in the cycle of not being able to buy."
Does this mean that owning a home is truly impossible if you're drowning in debt? We asked real estate experts how realistic it is to attempt to buy a home with student loan debt, and what their best tips are for young homebuyers looking to take this step. Here's what they had to say.
1. Build your credit score.
Even if you're in the hole with student loans, our experts say making timely payments on other bills can make a big difference on your credit score. "It is very important that you consistently make your monthly payments and you can show a history of those payments having been made," says broker Becki Danchik of Warburg Realty. "Keep your other liabilities to a minimum, so pay down any credit card debt that you have and pay off any other loans that you have first."
2. Ask your employer for help.
Believe it or not, our experts say that your employer can be a huge help in your home buying endeavors — and not by supplying financial assistance. "Speak with your employer to see if they can provide a letter about potential earnings that a seller and/or lender might appreciate seeing," Afkhami says.
3. Improve your debt-to-income ratio.
Not sure whether your credit score is good enough yet to secure a loan? Our experts suggest boosting your debt-to-income ratio — aka your monthly debt payments divided by your gross monthly income — in the interim. "Most lenders evaluate the debt-to-income ratio when making credit decisions," says Louis Adler, principal and cofounder of REAL New York. "This could have an impact on the interest rate you receive."
4. Get pre-approved for a mortgage.
"Your credit score is very important for your mortgage application, as it tells lenders how risky you are as a borrower," Adler says. "A higher score means an easier approval process, and so a lower interest rate on the loan. If you can get pre-approved with a lender first, then you will know how much home you can afford."
5. Look for accessible properties.
According to our experts, debt-ridden buyers will have a much better chance acquiring properties that aren't in highly coveted locations. "Look at properties in emerging areas and that you can grow into but don't have huge carrying costs," Afkhami says. "Also, if possible, look at sponsor units — which are units in a condo building that are owned by the developer and going up for sale for the first time — which don't scrutinize credit."
6. Start small.
Above all else, our experts say to remember that becoming a homeowner, especially when you're in debt, can be a lengthy process — but one that will pay off in the long run. "Your first home doesn't have to be your dream home," Adler says. "You might sell your first home for a bigger home in 6-10 years. After a few years of building equity, developing your career and paying down student loans, you will be in a better position to buy your home where you want to live in for decades."