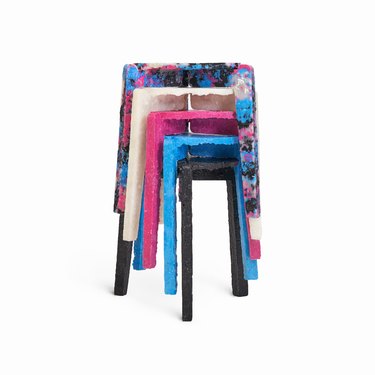 Almost a year into the global pandemic, the large-scale disposal of masks has caused an enormous plastic waste issue worldwide. Billions of face masks around the world are discarded each month, eventually becoming microplastics, which pose a threat to marine and human life.
Outraged by the environmental impact of mask waste, South Korean furniture designer Haneul Kim created a stool collection made from thousands of disposable plastic masks. Available in a wide range of colors like blue, pink, white, black, and multicolor, they're made from 100% recycled face masks which Kim collected — starting with a simple collection box he set up at his school, The Kaywon University of Art and Design. Kim, who first became inspired to study furniture design by his mother who ran a carpentry shop, repurposes about 150 of those masks to build each stool.
Recent decades have seen significant shifts in environmental awareness, with steady decreases in plastic use, but the pandemic threatens to reverse much of this progress. Hunker spoke with Kim recently about his work to help change the plastic waste paradigm.
​Hunker:​ How did you come up with the idea to turn face masks into a furniture collection?
​Haneul Kim​: I happened to know that the material of the disposable mask was plastic. "Plastic can be recycled, but why don't you recycle masks made of plastic?" I thought. It started out with curiosity and developed up to here.
​Hunker​: What kinds of furniture have you been making, and do you have plans to make new pieces in the future?
​HK​: I made a chair that I thought was the foundation of furniture [which led to the stool collection], and now I'm studying not only chairs, but also other forms such as lighting and tables.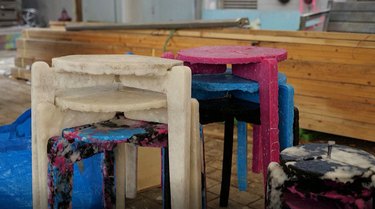 ​Hunker​: How do you see this endeavor aligning with South Korea's attempts at improving environmentalism practices?
​HK​: My invention has [illuminated] a big issue in Korea, and those who actually control environmental policies are reviewing policies to collect masks. However, it should be handled carefully because there is a big problem with the virus secondary infection.
​Hunker​: How many pieces of furniture have you made?
​HK​: I made about ten real-size and twenty sample-size chairs for the first project. Since then, I have been making additional chairs when I get a purchase inquiry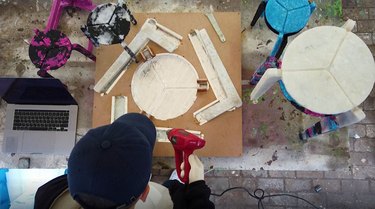 ​Hunker​: Have people in your community been receptive to this idea and helpful to you in undertaking this project?
​HK​: [Yes], as mentioned, South Korea is reviewing its mask collection policy. Also, there were many people who wanted to collect masks personally and send them to me. (Unfortunately, I couldn't collect them, due to risk of secondary infection.)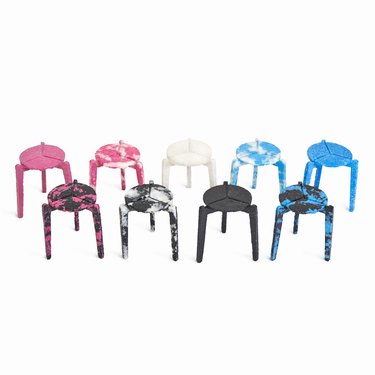 ​Hunker:​ How do you make the stools?
​Haneul Kim:​ I make a chair-shaped module that melts, cools, and hardens the plastic mask. Thousands of masks, [made of] thin fabric, combine together and finally have the durability of a hard, tough plastic that can function as stool.
​Hunker​: What other artists or projects have inspired your practice?
​HK​: Project Right Ocean by Designer Seungji Mun. He is the person who inspires me the most. And I like colorful plastic injection works by British designer Jamie Shaw.
​Hunker:​ What other kinds of recycled furniture are you interested in creating?
​Haneul Kim:​ It's fun to give new life to abandoned [objects]. I think anything can be recycled, [just] as I have upcycled these masks. The material I've been interested in lately is tire waste.
​Hunker​: What has been the most exciting part of this experience?
​HK​: As a designer, it is interesting to note [and address] the problem that the whole world is worried about. I think designers should be interested in design, but they should be interested in all kinds of cooking, science, environment and history. And the sense of accomplishment was thrilling — that no one had done [what I had done]. I will continue to [engage] more adventurous and challenging activities as a designer.