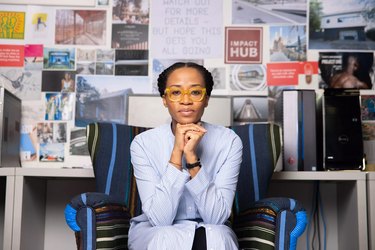 For Women's History Month, we are highlighting the people and projects you should know about all year long.
Sometimes the best creations are born from ideas that are right in front of us. Ask Nigerian architect-turned-furniture-designer Tosin Oshinowo, who founded Ilé Ilà. Meaning "House of Lines" in English, the brand showcases vibrant accent chairs and ottomans that incorporate the bright Asò Oké fabrics from Oshinowo's Yoruba culture. Each piece is also handcrafted in the designer's home country of Nigeria.
Oshinowo tells Hunker that, early on, she recognized that she had a natural aptitude for design and visual concepts. "I decided at 12 that I wanted to become an architect, and I was very fortunate that my Plan A in life worked out," she says. "My father was having a country home built when I was about 12 and I was the only one of my siblings who was particularly interested. I was able to read the floor plans very easily, so it was clear early on that I [had spatial ability]."
Oshinowo went on to earn a master's degree in urban design from the Bartlett School of Architecture at University College London, along with a postgraduate diploma in architecture from the Architecture Association London. In 2012, she founded the architectural design consultancy firm CM Design Atelier and completed various residential and commercial projects across Nigeria, including the Maryland Mall retail shopping center and the gorgeously minimalist Coral Pavilion beach house in Lagos. Her career as an architect led her to consider designing chairs, and in 2017, Ilé Ilà was born.
"When architects dabble into products, they usually go with a chair first, and then they might have a series of additional pieces," she explains. "If you really think about furniture, a chair is the most basic requirement for any space, so it was a very natural starting point for me."
While designing chairs is an organic step for most architects dabbling in design, Oshinowo notes that it's also a pretty modern piece of furniture in traditional African culture.
"Funny enough, the chair as a symbol is probably one of the last pieces of furniture to come into an African context because, traditionally, we wouldn't have used the chair," Oshinowo explains. "If you look at a traditional settlement, you would have tiny huts for sleeping, with larger communal outdoor spaces, usually underneath a tree or shade. Most people would sit on a mat or raffia carpet and the only person who would sit on a stool or elevated structure would be the chief or king — everybody else sat on the floor. So the chair is actually a very modern construct [here]."
Oshinowo came up with the idea of a furniture line after working closely with a team of carpenters on other projects. Plus, Nigeria's lack of large-scale furniture manufacturers meant that she had control of the production process, from the concept to the design and eventual construction.
"When you live in a place that is best described as an emerging economy, [some industries] are not established yet, and it's easier to work one on one with artisans and designers," she says. "That is very much how most furniture was designed before the 1950s, before big manufacturers took over."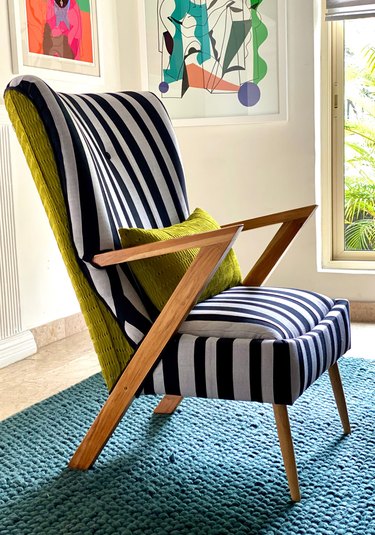 The unique fabric on many of the Ilé Ilà armchairs is a traditional Nigerian fabric called Asò Oké that Oshinowo says "encapsulates so much of Nigeria's history." After conceptualizing the idea of upholstering the chairs with Asò Oké, she started collecting the fabric and showing the vintage pieces to her mom, who could date the material based on its pattern.
Certain bright patterns were worn in the '60s and '70s, metallic threads were used in the '80s, and certain patterns could even be traced to different Yoruba families. In essence, each piece of fabric told an intimate story that Oshinowo wanted to incorporate into her designs.
"Asò Oké is a very beautiful, very tight cotton, almost like denim, and it lends itself well to upholstery," Oshinowo states. "As a culture, we tend to wear it as a [formal] dress, whether it's at a wedding, funeral, or a birthday party. I designed the first few chairs with the Asò Oké fabric and it was a hit. When you have this rich wood furniture and then this burst of color, it beautifully complements each other."
Ilé Ilà is a way for Oshinowo to share a literal piece of Nigerian culture within each chair, but her line of work also proves that fine furniture doesn't have to be imported from abroad. "I wanted to show people that we could get high-quality furniture built and made locally," she says. "I needed to prove a point that we don't always have to look outside. We have solutions here — solutions that celebrate our culture."
Oshinowo sees herself as a part of a generation of creatives who are changing the narrative around Africa and takes pride in creating a seat at the table for both current and future African designers.
"When I was growing up, we didn't like anything that was local, but now the story has changed," she reflects. "Culturally, when we think of music and fashion, all of a sudden Nigeria is starting to be seen at the same level on the global stage. We have, potentially, the greatest generation of creators coming behind us because their references are so much better than the ones we had, and I'm so proud to have lent my voice to that cause."