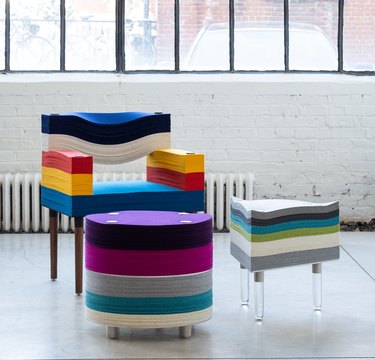 If there's one thing that gets us excited about the future of design, it's sustainability. We love seeing how creatives incorporate eco-friendly practices into their work — especially when we can integrate that work into our own homes. Among the latest sustainable designs we're fawning over is STACKLAB's new furniture line, The Felt Collection.
STACKLAB is a Toronto-based, multidisciplinary art and design studio founded by designer Jeff Forrest in 2013. The latest project, The Felt Collection, features benches, stools, side tables, and chairs made from excess, off-cut, and end-of-bolt Merino wool. STACKLAB partnered with factories in Upstate New York and Toronto to take scraps and turn them into something new.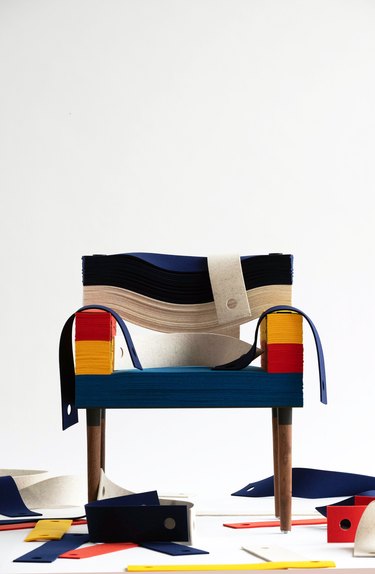 "The Felt Collection continues STACKLAB's practiced commitment to making productive use of discarded and waste materials," Forrest tells Hunker. "Our interest in re-use first took shape with our Cube Series, where we explored alternative uses for decommissioned and historic industrial tooling."
The Felt Collection relies on an algorithm that allows STACKLAB to identify felted wool remnants and how they can be used to create furniture. "Right now, our first generation system (we're currently on version 1.3) is about 50% digital, 50% analog," explains Forrest. "We're working on a 2.0, which will be far more digital and will include a design configurator."
While version 1.0 allows STACKLAB to make its furniture, the 2.0 version — a fully digital design configurator — will allow consumers to create their own sustainable furniture using excess factory wool.
When asked about what he wants consumers to get out of The Felt Collection, Forrest stated that the company hopes "they get excited by the potential of the concept while sitting comfortably and colorfully."
The line's price point starts at $3,000 — an investment in what would be a unique, long-lasting piece — and can be purchased on STACKLAB's website and through designated dealers. We can't wait to see what companies like STACKLAB will continue doing to contribute to the future of sustainable design.