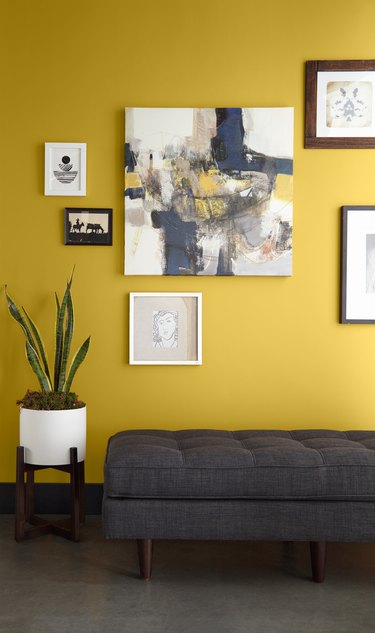 Now that it's here, you might be wondering how the Pantone Color of the Year (two hues this year!) could actually work in your home. The colors create some interesting contrast and can influence how we view our spaces.
"From the experiences of this year, we all have a greater appreciation for our home and its many purposes," Erika Woelfel, Behr color expert, said in a statement. "Color and the way we design our spaces can greatly influence our moods, productivity, and outlook."
With that in mind, we searched for some ideas on how to bring the colors into your home — whether you want to go bold or incorporate them in a more subtle way.
Here's some inspo to get you started.
When styled with warm woods, the color combo can create a relaxing vibe. Here, gray takes over as the main hue with a pop of yellow to round out the look.
If you want to stray away from the classic blue/pink of kids rooms, give yellow and gray a try. This gray bed frame contrasts with a playful yellow wall.
For a modern living room space, use the hues to create a sophisticated look. A gray couch with bursts of yellow decor looks cozy in this stylish space.
4. A Bright Reading Corner
If you want to really dive head first into the yellow hue, opt for a bright couch like this one from Floyd. Pair with a gray rug and neutral blankets for a great area to lounge.
5. A Head-Turning Exterior
Don't forget about your exterior. Combine an understated gray with a bold yellow door that will make your neighbors do a double take.
If you want to get really adventurous, consider adding some yellow to your cook space. Pair with a gray backsplash or wall and gray tiles for a chic contrast.
7. An Inspiring Gallery Wall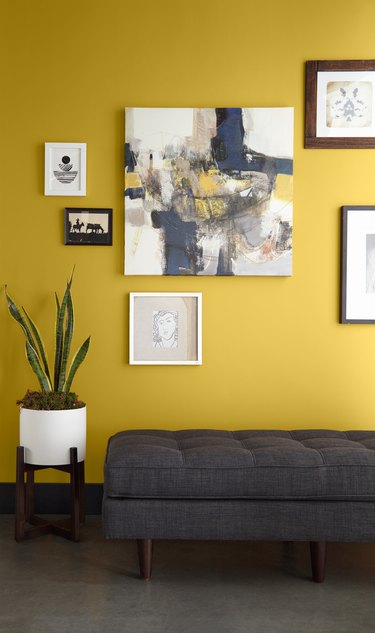 Get your creative ideas flowing with framed art set against a vivid yellow wall. Add gray seating and a plant friend to tie it all together.
8. An Energizing Workspace
If you've got a few people in your home working/studying remotely, keep the morale up with a bright dose of yellow on top of a gray trim.
You don't necessarily have to go crazy with decor to use this color combo. This sleek space is proof, especially in how it uses black to bring yellow and gray together.