If you are debating the merits of building a shed, it's important to first understand what that means. For those with mad carpentry skills and the itch to use them, a DIY shed project may involve building a wooden shed from the ground up. For those who don't exactly consider themselves a handyman, they will have to choose between buying a storage shed kit to assemble or purchasing a small prefabricated shed. Several factors may affect your choice, including your time, budget and skill level for this home improvement project.
Shed-Building Time Commitment
The choice to build or buy a new shed often comes down to time. There are several advantages to building your own shed, but as with all other DIY projects, it's going to cost you some time. If you're an experienced builder, you may be able to get a pretty large chunk of a small shed built in a weekend. You probably won't get the shed completely finished, however, and you may still have finishing touches like roof shingles or siding to install.
If you want a larger shed or a more intricate design, expect your build to take even longer. Unless you can take a few days off work and really dig in, you may find that building a custom shed takes up a lot of your free weekends and a few evenings. Buying a garden shed is undeniably quicker.
Even if you buy a shed kit to put together yourself, construction will go much more quickly given that every piece of lumber is already cut to size and labeled and will contain any necessary pilot holes. Many retailers offer assembly service as well. For a fee, they will deliver a shed to you and, if necessary, assemble it. Professional shed assemblers build sheds all day every day and may be able to accomplish in a day or two what would take you three or four weekends of work.
Storage Shed Customization
If you want your backyard shed to have special features or a unique design, there is no question that building it yourself is the way to go. Shed-building kits are available in a variety of shapes and sizes. Because they are mass produced, however, your options are limited to the designs and layouts that the manufacturer produces.
You're likely to have more options if you go with a company that will custom build you a shed and then deliver it whole or assemble it for you on-site. For example, this option may let you choose where you put your doors or choose between gable or gambrel roofing. You may even get to decide if you want window boxes for flowers, built-in shelving or skylights. You'll have more choices than you'll get with a kit, but you'll still face design limits.
Building a shed yourself gives you the freedom to build what you want the way you want it. Even this freedom isn't absolute, however. Your local zoning laws and homeowners' association rules may still limit the size, height, placement and color of your shed.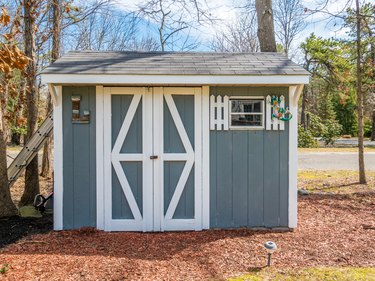 The cost of a shed can vary greatly depending on the materials used, the size of the shed and other factors. If, for example, you are replacing an existing shed, you won't incur the costs of installing a new foundation since you can use the old one.
As of 2020, the average cost of a shed in the United States is about $2,750. You can spend as little as $300 if you just need a small shed for storing a few garden tools, but the price goes up as the shed gets bigger. Building materials also affect the price. A 10 x 10-foot shed can cost between $600 and $3,000 when made of wood but $300 to $2,000 when made of metal and $300 to $1,500 when made of plastic.
Labor costs also add significantly to shed costs. You can easily pay $50 to $100 per hour in labor if you pay someone else to build or assemble your shed for you. Your brother-in-law might help you for some pizza and beer, but a professional installer can get pricey in a hurry.
Building a shed yourself with all the high-quality customization you want can get expensive if you have champagne tastes, but it also allows you to control your costs if you wish. By choosing your own building materials, nixing unnecessary extras and supplying the labor yourself, you can save anywhere from 10 to 50 percent when building a shed versus buying one.
Tools, however, can significantly change the financial picture. You'll need basic tools like a drill, a ladder and a hammer when using a shed-building kit. You won't need a saw or anything fancy, however. If you're building a shed from scratch, you'll need many more tools, including a circular saw and lots of carpentry hand tools, like squares, a chalk line, a level and handsaws. If you don't have these tools, you'll need to purchase them, which will add to your building costs.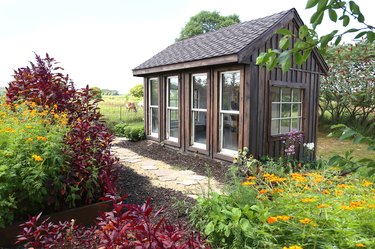 Evaluate Your DIY Skill Level
A shed is worthless (and not to mention dangerous) if it's not stable and secure. Before you decide whether to build or buy a shed, you need to determine your DIY skill level. Most homeowners do well with shed-building kits. These kits complete the difficult tasks of designing, measuring and cutting shed pieces. The instructions for putting them together are generally easy to follow and sometimes include a phone number you can call if you get stuck.
Another benefit of working with a kit is that you have a backup if something goes wrong. If you find you're missing a piece, for instance, the shed company will send it to you. The company can also replace pieces that arrive damaged. You don't have this backup when you build your own shed. If you cut a board too short or can't get things to fit together properly, you're on your own with no one to call.
If you're an experienced carpenter, however, you can build a shed that can last for many years. You can design a shed that will look and function exactly as you wish and build it to your own exacting standards. It's very possible that your craftsmanship will exceed that of a mass-produced shed-building kit.