When scrolling through your favorite online home decor stores, you might come across the descriptor "burl wood" (we're looking at you, CB2). If you have no idea what that means, where this wood comes from, or why it's popular, you're not alone — it has only recently become trendy again. To help you discover the beauty of burl wood, we reached out to interior design experts for all the details.
"Burl wood is actually a special, extra growth on a tree that grows in a deformed manner," interior designer Marie Burgos tells Hunker. "Burl wood can be found anywhere on the tree, but is predominantly found on the trunk, the tree base, and even as a rounded underground outgrowth."
Burgos adds that the burl wood grain — which can appear in many types of trees — shows up in a distorted, unusual manner that makes it all the more special. "They may look ugly from the outside, but the inside is entirely different. It's beautiful," she says.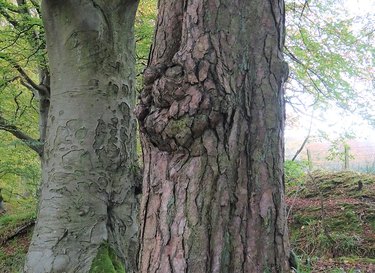 According to Redwood Burl Inc., burl wood's grain pattern can also be affected by fungi, viruses, insects, or injuries that put stress on the tree. These unfortunate occurrences can actually have a stunning outcome on the wood.
When was burl wood last popular?
"Burl wood as a material has been around for decades," Decorist designer Megan Wright tells Hunker. "It was first popular in the 1920s, especially in art deco designs, then continued into Hollywood Regency designs and was at its height during the 1970s."
Art deco design includes jewel and metallic tones, geometric shapes, and luxurious woods. In terms of Hollywood Regency, it's similar to art deco, but manifests in more playful elements like rich textures, showy chandeliers, and lush fabrics. As you can imagine, both design styles would only be enhanced by a wood as special as burl.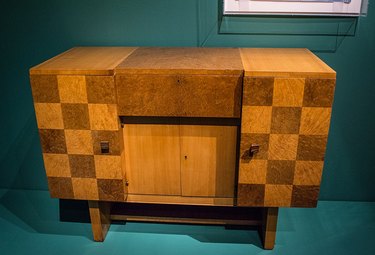 Unfortunately, the 20th century popularity of burl wood led people to begin poaching trees on park lands — which is still an issue today. As a result, Redwood Burl Inc. recommends that if you're in the market for burl, you ensure that you're buying from sellers who ethically source, reclaim, or legally salvage the wood.
Yet, burl wood wasn't always a hot, or even desired, commodity. Redwood Burl Inc. reveals that in the early 1900s, burl was passed over for more standard-looking lumber with a straight grain. Artisans of the '60s and '70s were the ones who realized just how special burl is and caused the wood's demand to increase.
Why is burl wood once again a trend?
"Previously, artisans and woodworkers knew how special these pieces were, and now consumers are catching onto the trend," says Wright, adding that this type of wood grain is a versatile design choice. It can be left alone or lightly styled — either way, it's going to turn heads.
When asked why she believes shoppers are now gravitating toward burl wood, Burgos explains, "I believe people are looking for more original and unique types of wood for their interiors. There are so many industrial options of ready-made furniture pieces that when you can have a piece with its own unique character, it makes a difference for your interior."
In fact, Etsy listed burl wood as one of their 2020 home decor trends. Burgos also just purchased a burl wood desk for a client's home office. You can see a 3D rendering of her design concept below: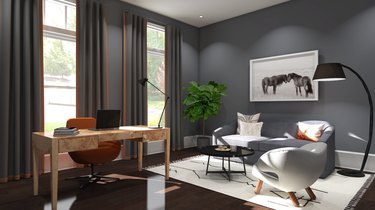 Though burl is currently experiencing a resurgence, it's a type of wood that tells a story — and that never goes out of style.