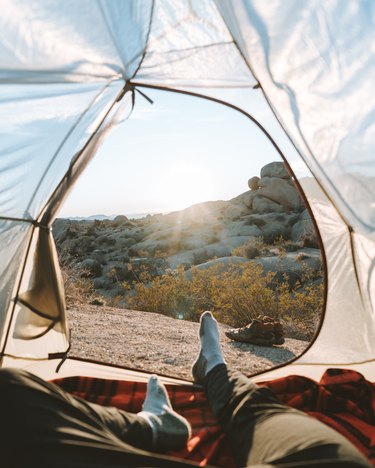 Camping is the perfect way to get out of the house and take in some incredible scenery. But it's not really as simple as throwing a pack with a sleeping bag on your back, lacing up your hiking boots, and heading out into the wilderness — especially not for beginners.
It's important to plan your trip carefully, and that includes purchasing the right gear. One of the most important pieces in your camping ensemble? Shelter! If you've never purchased a tent before, you might be surprised how many details you'll need to consider. But don't worry, we're here to help. Here are six steps you should consider taking when buying your first camping tent.
1. Decide where you're camping and what the purpose of your tent is.
"Knowing what type of camping trip you're taking influences the type of tent you need," Lindsey Maxwell of Where You Make It, a how-to site on alternative home setups, tells Hunker. Not all tents are made equal: The type of tent you're going to set up in the backyard for your kids is vastly different than the kind you'll bring on a multi-day hike through backcountry.
2. Check on the climate and weather at your campsite.
Think big picture: What time of year are you going camping? That will determine the seasonality of your tent.
"Tents can be divided into two major groups: three-season tents and four-season tents. Three-season tents are designed to protect you from spring to fall, while four-season tents are designed to withstand the elements year-round — even harsh winters," Tory Jon of Tenthacker tells Hunker. "That doesn't mean you should go out and buy a four-season tent just to cover your bases. Four-season tents are typically more expensive and can be stuffy in warmer climates. Most beginners camp in the warmer months, so a three-season tent is almost always the best fit."
Now think small picture: What might the weather be like when you're camping?
If it's going to be hot and humid at night, you'll probably want to have a well-ventilated tent to try to catch any breezes. "You want to make sure you have plenty of ventilation available like mesh windows, a mesh ceiling, and floor vents to keep from hotboxing your tent," Raul Mercado of Camping Helper tells Hunker.
3. Figure out how you're getting to your campsite.
"Weight becomes important when you're considering how far you have to carry your tent," Robin Tuck of Elite Jetsetter tells Hunker. If you're trekking out to your campsite on foot, you're going to want a super lightweight, packable tent. But if you're driving to your campsite, you can easily get away with a bulkier model that has a few more bells and whistles.
"Camping tents can range from $25 to over $7,000 — seriously — so it's important to establish a budget," says Jon. "Once you know about how much you want to spend, you can start comparing tents within that price range and see what features they have."
Those features can range from interior storage pockets to back doors to screened-in porches — the list is pretty extensive, and that makes a big difference in the price point.
Given that there are so many factors to consider when buying a tent, you really should see some tents in-person before you invest in one, just so you can actually get a feel for what type of tent you might want. "If you have a friend who has a tent similar to what you want, ask to borrow theirs and try it out before you even buy a tent," says Jon.
If you don't know anyone with a tent, most outdoors stores have a few set up in the store, and you can actually get inside them. You might also even be able to rent a tent from some from a retailer, which is a great way to test out a model before you invest in one.
6. Practice before you go camping.
"Try setting up your new tent in your backyard," Dan Yates, founder and managing director of outdoor accommodation booking site Pitchup.com, tells Hunker. First of all, you may love the tent on paper, but once you actually get around to setting it up and testing it out, you might find you don't like it at all!
Second, even if your tent is the one for you, you should still practice pitching it before you get on the road. "One time, it took three times as long as expected to get to our camping site, and it was pitch black when I got there," says Yates. "Putting up a six-man tent straight out of the package in the light of the headlights, while all the other campers were getting angry watching, isn't an experience I'd want to repeat."