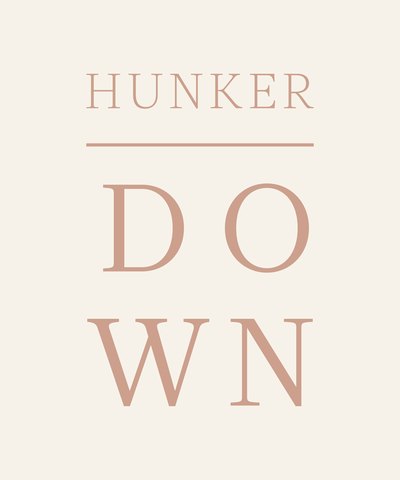 Join design editor Ariane Moore for Hunker Down as she gets to know the creators and designers she's followed for ages.
Chances are you've probably come across Ron Goh's stylish home a mere one or two million times before, while scrolling through Pinterest or Instagram. Originally from Penang, Malaysia, Ron has been living in this bright, industrial space located in Auckland, New Zealand for almost four years now, with his two pups Teddy (a miniature schnauzer) and Ninny (a Chihuahua).
The digital designer and all-around creative's plant-filled loft is a favorite among interior design junkies all over the world (myself included!) — and it's not hard to see why. Seeing as how I've gotten lost many times looking through his dreamy Insta feed, I thought it was high time to hunker down with the man behind Mr. Cigar Loft and chat about the "urban jungle" that he calls home.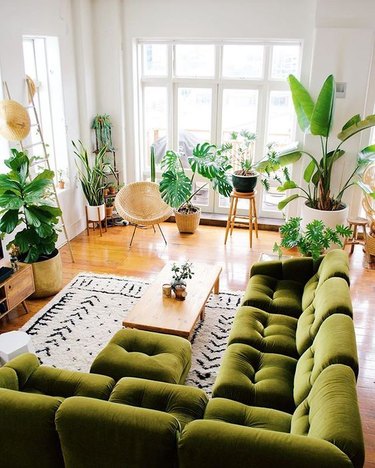 Hunker: How would you describe your home's style?
Ron Goh: Midcentury Modern.
Hunker: Your home has quite the history. Can you talk a little about that?
RG: The building is nearly 100 years old, it still retains a lot of the original charm. It used to be a factory back in [the] 1920s through to the late '80s when it was converted into four units.
Hunker: Are there any existing features in your home that were part of the original design?
RG: The high ceilings and all the details from its factory heritage — exposed brick and [ceiling] beams as well as oil-stained floorboards really give it a unique character.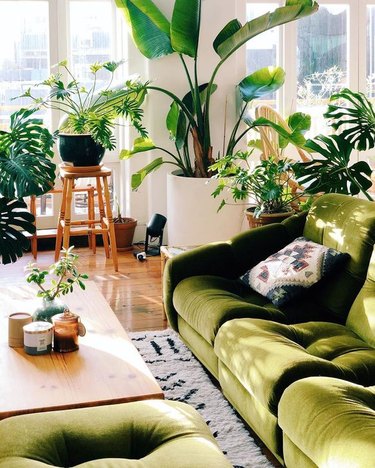 Hunker: Do you have a favorite piece of home decor? If so, what is it and why is it your favorite?
RG: That would be the one-of-a-kind couch that I [have] in my living room area. It was a [secondhand] piece of furniture that was made in the '70s in New Zealand. I love the color and the style. It kinda reminds me of the Mario Bellini sofa.
Hunker: Is there anything in your home that looks expensive, but was really a bargain find or a DIY project? If so, what?
RG: That would be a pair of Murano lamps I found on Facebook Market for $10. They are selling $800 for a pair in a vintage shop in NZ. The [Facebook] seller has no idea what [they had]. It even has an Apple company sticker on one of the lamps. It's my score [of] the century.
Hunker: Where do you go for inspiration?
RG: I think travel really inspires my style a lot. I love to visit places that are full of greenery and have interesting or unique interior styles. I watch for how they use plants for styling and what sort of pots they have that look great. Pinterest is always a good way to get inspiration and I think I would call that an addiction.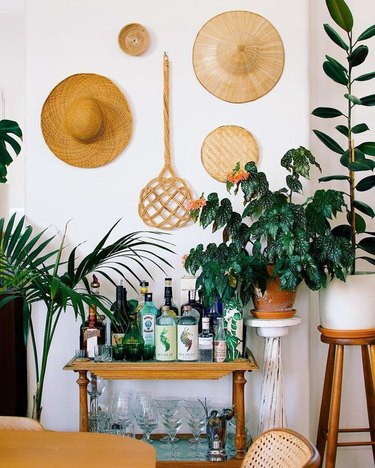 Hunker: Of all of your travels, where is your favorite place to visit and why?
RG: Definitely Japan. It's so photogenic everywhere you go. I love exploring the back street[s] of Japan. Love seeing how they organize and decorate their front door[s] with plants.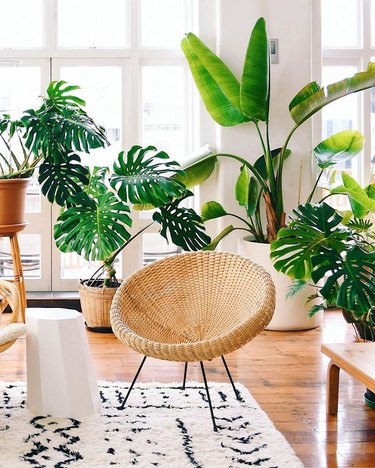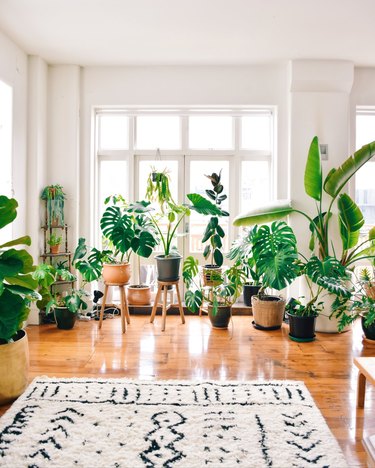 Hunker: You clearly have a love of plants, how many do you have?
RG: Approx. more than 50? I've actually lost count. But who's counting?!
Hunker: What are three plant care tips that you would recommend to those of us with a black thumb?
RG: 1) Get to know the bright and dark spots of your place. What sort of light — is it filtered or direct? For how many hours a day? Different plants do better with different types and lengths of sunlight exposure. Read the little cards that come with the plants — they are actually really important! 2) As a general rule, unless you can confirm your plant specifically likes it, stay away from direct sunlight. Most indoor plants only like filtered sunlight. Strong sunlight can burn the leaves, especially new growth. 3) Don't overwater your plants. I only water my plants once a week unless it's hot and dry. Keep the potting mix moist, but not wet. Again, different plants like different amounts of water — read up! Some plants enjoy frequent watering but hate wet feet. For all plants though, make sure all the water can drain out of the pots.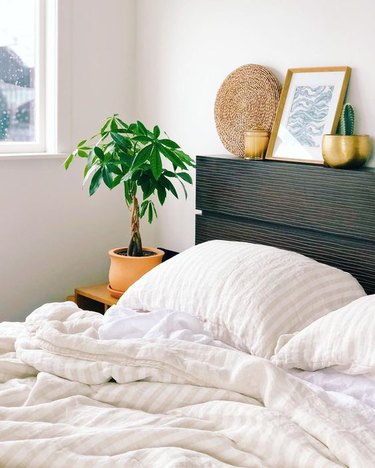 Hunker: I've been seeing a lot of people talking about their morning routines on Instagram lately. What's your morning routine?
RG: Waking up, shower, making granola & a cup of Soya flat white coffee for breakfast.
Hunker: Many people are working from home right now, what are your work-from-home must-haves?
RG: A Frank coffee cup that keeps my coffee hot in the morning.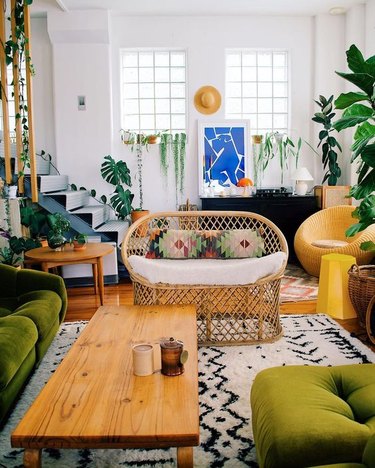 Hunker: What home decor trends are you obsessed with right now?
RG: I'm obsessed with Japandi style lately, which is a hybrid of Japanese and Scandinavian aesthetics. The look is minimal, functional, warm and calming; with touches of wabi sabi enthused imperfection. Which are totally different from my current home decor.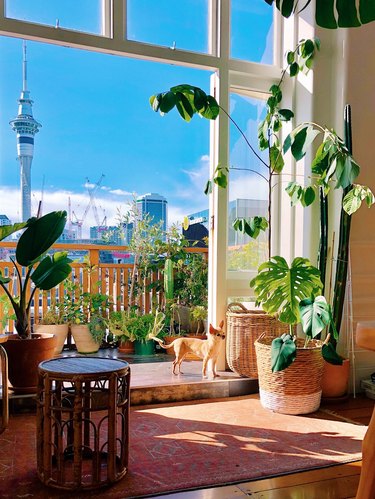 Hunker: Do you have anything in your home that has been handed down? Would you mind sharing the story/history behind it?
RG: I have a stone collection from my mother which she has been collecting while traveling around the world. When I'm looking at those objects it always brings a smile to my face because it means more than just a display item. It always reminds me of the [people] I love, [which are] my parents.