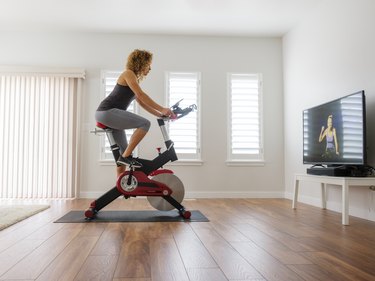 If there's one thing that the infamous Peloton commercial taught me, it's that's people do not respond well to peer-pressured recommendations of daily exercise. (Her eyes said it all.) And here's the thing — I used to be one of those people. Pre-quarantine, I had an endless list of excuses queued up to get myself out of daily workouts: I worked out so hard yesterday, I've been eating well all day, I slept horribly last night, I even skipped today's office birthday cake!
I'm with you; people who work out every day and brag about it deserve a special place in fitness hell (just kidding, mostly. If you subscribe to Olympic levels of fitness, I'm happy for you — I am).
But, during the quarantine? I'm a completely different person. I'm attempting the whole stay busy thing: I keep a morning routine (which, to be fair, has pretty much only ever consisted of a cup of coffee and my trusty Revlon dryer brush), work a full eight hours of Zoom meetings, article edits, and emails while leaving a dedicated hour-ish for lunch, try to read, catch up on as much news as my anxiety will allow, listen to a daily podcast, etc. And yet, when all is said and done, I still have hours left to fill.
Which is how the Echelon Smart Connect Bike became my latest obsession. There's something about the ease of this bike combined with my seemingly endless days that are really packing that one-two punch needed for me to stay active. By the time I end my workday, I am more than ready to take a screen break. Usually the thought of an hour-long class would immediately deter me, but with the lack of commute, errand-running, and socializing that would normally break up my work and post-work TV watching, I'm left with one choice: Working out.
Pros
The corresponding Echelon bike app comes preloaded with hundreds of instructor-led workout videos ranging from 20 to 90 minutes, so you don't have to attempt your workout on a whim. I usually select something around 45 minutes that includes some kind of arm workout with hand weights. By the end of the class, my heart is racing and I'm (TMI?) dripping in sweat. Of course, just like any workout, there are certain instructors I like better than others, but that's the beauty of it — you can actually hand select your class vibe and level of exertion depending on your mood.
From there, I work on sprints, uphill climbs, and on-bike choreography and, for once, let my busy mind get lost for a brief respite during this already-crazy-enough time. And it's not just me — my sisters and I have all retreated to our parents' house during the quarantine time and each member of my family has enjoyed the many benefits of this at-home bike. While we have our doubts on how accurate the stats of each ride are — our calorie burn count is often north of 1,000 — our heart rate and sweat levels confirm that we're getting a great workout in and take the on-screen stats with a grain of salt.
The other thing I'd like to highlight is the price. While other competitors clock in around $2,000-3,000, the Echelon models start at just $799 and max out at $1,639 — a bargain comparatively, especially if you like to mix it up with other types of workouts as well.
Cons
Let's be real: Everything has flaws. And while I love almost everything about this bike and how easy it makes working out for me during this hard time, there are of course a few cons. First, it does cost $39 per month to get access to the app which houses the workout videos — which can add up to a lot per year on top of the initial cost of the bike. Luckily, they do have bundle options to pay for the bike and app, either in full upfront or monthly, so you can keep costs down.
Additionally, the model I have is the Connect EX5, which requires an iPad for workout viewing, since it doesn't have a built-in screen. The model right above this one, the EX5S, comes with a built-in screen, so if you don't already have an iPad, you might want to weigh the costs. (Occasionally the brand offers a free iPad with a special promotion code, although at the time of publishing, there isn't one listed.)
Final Verdict
This bike is incredible. Sure, I hem and haw my way getting onto the bike itself, but once I'm there and am met with an endless list of classes, I immediately forget my initial hesitation and focus all my energy on deciding between Gen Z Pop Songs or Throwback Hits.
I'm telling you: It's a quarantine lifesaver. I'm sure any type of cardio-based workout machine would be a lifesaver during this unprecedented time, but, for now, I'm going all-in on the Echelon bike.