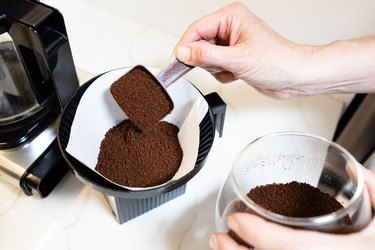 With all the pods and pour overs, can't a girl just get a nice cup of coffee from a regular coffee machine these days? While I've dabbled in fancy brew makers, I finally realized that all I wanted was an "old fashioned" pot of coffee every morning — easy-to-make, no fuss.
When I renovated my kitchen last year, my husband and I wanted to christen it with a nice coffee setup. First, we made a pact that in order to invest in some high-quality equipment, we would agree to cut down on/cut out our daily coffeeshop runs. (I was spending up to $30 a week.) We agreed upon a nice espresso machine for special occasions, a reliable coffee grinder, and a high-quality coffee machine for everyday brewing.
We all know that we can go bonkers in the spending department when it comes to coffee makers, but I found one that is pretty reasonable. Maybe the cost is more than what you might want to spend, but for me, I justified it by agreeing to stop spending while out and about. I'm definitely coming out ahead.
So, what is this machine? Introducing the Technivorm Moccamaster KGB. I got mine in Polished Silver, but it comes in a variety of gorgeous hues like Yellow Pepper (for a bright burst of color) and Pistachio Green (for you retro lovers).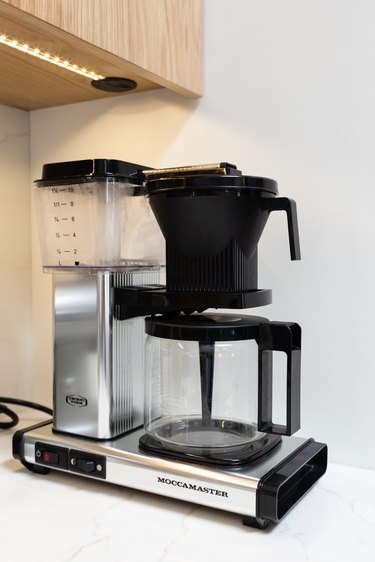 It's well-made, it looks sleek and modern, and it delivers a delicious, quick brew every time. (Of course, beans do make a difference, and currently I'm really into Intelligentsia "El Diablo" dark roast or Bulletproof "The Original" medium roast.) It also comes with a nifty measuring spoon, so you get the exact measurement of grinds you need.
So, if you're just a regular coffee lover like me — not a connoisseur, but someone who appreciates a really great cup of coffee — stop spending money every day at coffee shops and get this already.