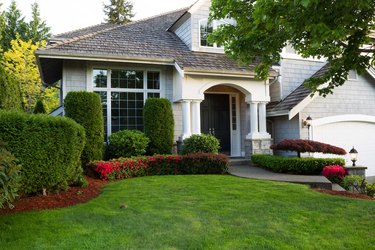 After a long winter, it's likely that the patchy yellow grass in your yard isn't winning any awards for its photogenic qualities. But with spring on the horizon, it's officially time to start dreaming about a lush green lawn again.
Now that you're not battling the weather, the biggest roadblock you'll face is that most of the pieces of equipment that'll help you transform your lawn into a grassy slice of heaven aren't exactly everyday tools.
Instead of letting that stop you from embarking on the project (or winding up with more stuff you've only used once collecting dust in your garage), consider saving space and money by renting a few tools.
"In addition to financial benefits, renters also receive the convenience of the rental store taking care of maintenance, storage, and updating equipment," says Dan Sharp with the American Rental Association.
Plus, because rental store staff members have a wealth of knowledge on all the equipment they provide, they're an extra shoulder to lean on when choosing the tools you need to get your job done — which means less Googling, and more actually working on your project. "If there is a better solution for the customer on how they can tackle a job, the rental store is there to suggest the best tool and inform the customer on how to use it," Sharp says.
To get started, head to RentalHQ.com — the world's largest rental store locator — to find the equipment you need at a store near you. Not sure what to search for? Here are some tools that'll come in handy when you're dreaming of a perfectly manicured outdoor space.
Skid steer
Hoping to totally overhaul the landscaping in front of your home? A skid steer — you've probably seen one when passing by construction sites — can be helpful for digging holes and moving dirt, mulch, rocks, and even plants. Unless you've got loads of empty space in your garage that you don't know what to do with (said no one ever), renting a skid steer makes way more sense than purchasing, considering it's half the size of a car.
Stump grinder
As much as the kids next door may enjoy playing on the stump in your front yard, it doesn't make the prettiest lawn ornament. Odds are, you've been saying you'll remove it for months, and by renting a stump grinder, someday can become this weekend.
Aerator
If your lawn is always just a little less green than your neighbor's, consider spending your weekend aerating. The process allows more water, air, and nutrients to get into the soil, helping your grass become more golf-course-like in the long run.
Post hole digger
Whether you want to totally fence in your backyard or build a pergola over the patio, there's no reason to manually shovel out the holes yourself. A post hole digger or auger will be like your own personal work crew helping you make sure whatever you're putting up is sturdy — even if you're a DIY crew of one.
And with that combo of the right tools and a little bit of elbow grease, you're ready to start working on making the lawn of your dreams a reality — just in time for spring.