Back in January, after writing about the history of bidets, American bidet company Tushy sent me its attachable Tushy Classic bidet ($99) and naturally antibacterial Bamboo Bum Towels ($19) to try. A bidet is essentially like a mini shower for your private areas, meaning that you only need a bit of toilet paper (or a bum towel!) to dry yourself off. I received these products at the end of January, two weeks before a trip to Japan — where all kinds of public bidets were available for comparison — and have been using it ever since.
According to an email I received from Tushy, many others were also embracing the bidet amidst toilet paper shortages. "Tushy had sales that were 10x what they were before word spread of toilet paper shortages," the company wrote to me in an email. "And this is on top of Tushy already selling well over double what we'd been selling a year ago." The brand also cited a Google Trends graph showing that searches for bidets have surged since the beginning of March 2020.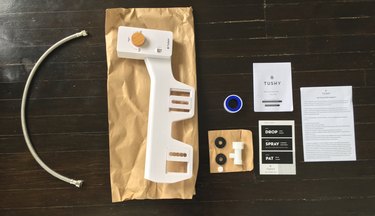 Other than quieting your toilet paper worries, a bidet is a more sustainable option when it comes to cleaning your undercarriage. According to Tushy, its bidet only requires one pint of water per use. As for the 10 billion pounds of toilet paper Americans use each year, its production calls for 437 billion gallons of water, 15 million trees, and 250,000 tons of bleach.
Considering how much toilet paper people buy each year, a bidet is also a more affordable option. Tushy states that bidet users consume 80% less toilet paper — they recommend only two sheets to pat yourself dry — which results in families not spending the average $500 they normally would on toilet paper each year. Tushy's Classic bidet, on the other hand, is $99. It allows you to adjust the spray nozzle's angle and water pressure. Even its Tushy Spa, which also gives you the option to regulate the water temperature, can be bought for only $119.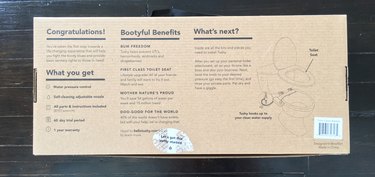 Health-wise, bidets have been said to help with conditions such as hemorrhoids and UTIs, since one is not wiping bacteria everywhere when attempting to clean themselves off with toilet paper. Bidets have also been used to help women maintain cleanliness during menstruation. In fact, most of the bidets I encountered in Japan had an option for spraying one's front half. However, a bidet is not to be seen as a replacement for a physician's treatment or as a form of contraception.
First of all, this bidet was easier to install than I imagined. It doesn't require electricity and instead involves a simple toilet attachment. The only part I had trouble with was unscrewing the existing flexible water hose on my toilet because it was somehow installed backwards. Righty tighty, lefty loosey did not apply. But other than that, Tushy's instructions were easy to follow, included helpful tips, and made the installation process a pleasant one. The bidet easily fits underneath your toilet seat and attaches directly to your water supply with a provided hose.
For guests, I also affixed the included, velcro-ready instruction card next to the toilet. In the end, the bidet blended in nicely with my bathroom and barely took up any extra space.
I would say that the main pro here is that I no longer need to worry about buying/hunting down toilet paper. I simply use the bidet to wash myself off and then dry my bottom with the bamboo towel. Now, Tushy also mentions that women can use their bidets for cleaning the body after urination or menstruation. I've used it for both and have loved the results. Especially during my time of the month, it's wonderful to wash everything away instead of wiping it away — hands-free! All you have to do is adjust the angle of the nozzle and your body on the seat.
The only con I can think of is the water temperature, which wouldn't be a problem if you purchased the Tushy Spa. The Tushy Classic doesn't have a knob for changing the water temperature, so you may initially be shocked by a spurt of ice-cold water. The sensation, however, quickly dissipates. Water temperature will also differ depending on your plumbing situation — in my current apartment, we've had water temperature issues that likely contribute to the toilet water feeling like wintertime.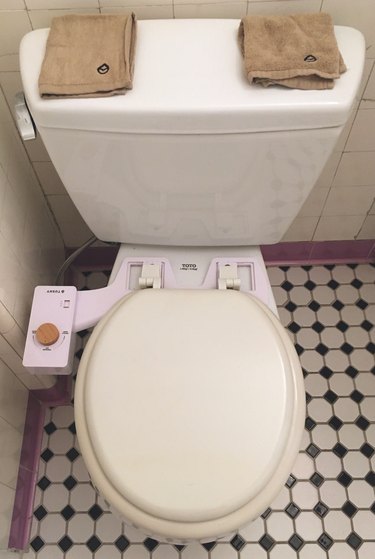 I highly recommend this bidet. It was an easy switch and one that makes me feel better using the bathroom in multiple ways. I no longer have to worry about wiping irritation or bacteria spreading below the belt. I can go without fighting over toilet paper at my local grocery store, and I'm making a change with the aim to positively impact the environment.
Honestly, when I have my own home, I'll likely upgrade to the Tushy Spa because I'm enjoying the Classic that much.
My Thoughts, One Year Later
I'm writing this over a year later and am happy to report that I still love the Tushy bidet. I stand by all my prior thoughts — except for the one con I mentioned. The cold water temperature no longer bothers me. I'm not sure if I got used to it or if my building's water temperature changed, but I no longer feel shocked by the bidet's spray.
When I recently took a weekend trip, my boyfriend and I actually found ourselves missing the bidet. Using toilet paper to wipe ourselves suddenly felt weird, wasteful, and uncomfortable, since we both prefer the clean feeling the bidet provides. It is truly a game-changer.
After all this time, I'd still give the Tushy bidet a 10/10. Once you try it, you'll never want to go back to using toilet paper.