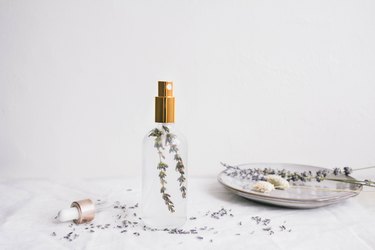 Freshen up your linens before bedtime with a calming pillow mist that's easy to make for yourself, and also makes a great gift for out-of-town guests. The botanical scents of lavender and chamomile are known for their relaxing properties, which soothe the mind and help ease the stressors of the day. Not only will this aromatherapeutic elixir help you fall asleep faster and stay asleep longer, you'll wake up feeling more refreshed and ready to take on the day. Just a few spritzes on your pillow before sleep, and a good night's rest is guaranteed.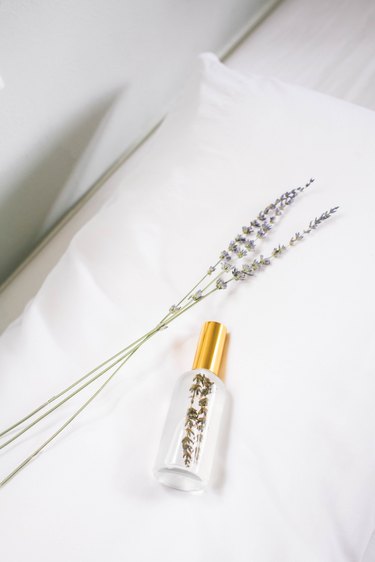 Step 1
Gently place one to two sprigs of dried lavender into the bottle. This is optional, but makes for a prettier presentation, if you ask us.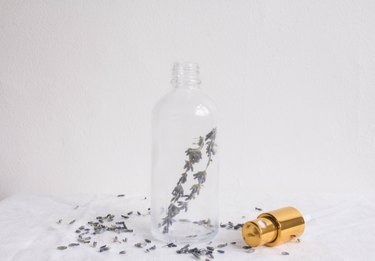 Step 2
Add two tablespoons of vodka or witch hazel to the bottle. This helps the essential oils mix with the water and also preserves the solution.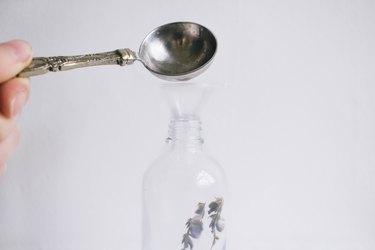 Step 3
Add 10 drops of Roman chamomile essential oil and 25 to 30 drops of lavender essential oil to the bottle.
Step 4
Fill the rest of the bottle up with distilled water (tap water is more prone to mold and bacteria growth). And you're done — so easy, right?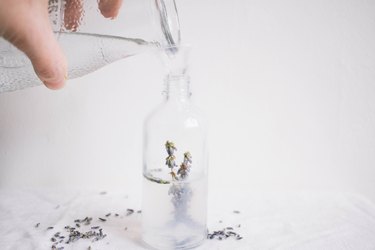 Simply spray some of the mist onto your pillows and linens before bedtime, and enjoy the soothing scent as you drift off to sleep.