If you happen to fall into the same category as the millions of GoT fans who refused to watch the new season without bingeing every episode of the previous seven seasons, then you already know how critical it is to have a lounge-worthy sofa. However, on the off chance that Game of Thrones isn't really your cup of tea (insert wide-eyed emoji here), you still need a comfy seating situation for essential adulting moments such as discussing the latest read for book club, hosting fun-filled game nights, or — and this might be the most important of them all — weekend napping.
The point being that no matter which activities take place in your living room, this modern sectional from Article is the one sofa that will rule them all. Thanks to its versatile design, including reversible back cushions and an innovative moveable backrest system (yep, that's right ... the backrests move!), the possibilities and configurations are seemingly endless. And while we might not do very much binge-watching at the Hunker House, we have been known to throw a stylish shindig or two, and the extra seating, flexible design, and stylish flair that this dreamy sofa provides is definitely a win-win-win.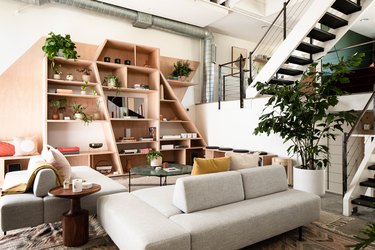 And if good looks and an adjustable design weren't enough, this sofa is actually comfortable, too. The perfect balance of firm yet soft, the seats are paired with down-filled cushions, which make it almost impossible to not completely relax and unwind. Additionally, the cool gray upholstery acts as a perfect backdrop for colorful accent pillows and vibrant throws can take center stage. That means you'll always be able to revamp the look of your space without having to change the one piece that really matters ... your sofa.