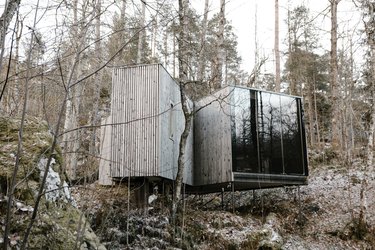 Welcome to Scandi-land, our celebration of the magic that is Scandinavian design. All week, we'll be bringing you tours, features, and shopping guides that dive deep into what makes Nordic design so covetable. Want more to read? Check here.
You may recognize the Juvet Landscape Hotel from Ex Machina, the film in which it is its own kind of co-star. There, it poses as a stunning — and remote — high-design retreat for a technology CEO, hidden in Alaska. In reality, Juvet is a stunning — and remote — nine-room hotel built in a nature preserve 250 miles northwest of Oslo, Norway. The man behind it, Knut Slinning, prefers skiing to artificial intelligence.
It makes sense that the production designer for Ex Machina chose Juvet. With the dark wood and floor-to-ceiling glass walls, there's something futuristic, masculine, and even somewhat sinister, to the seven original minimalist cabins, just 250 square feet apiece. (Two additional single cabins — the birdhouses — opened in 2014.) Each cabin sits above the forest flood on massive steel rods, so as not to disturb the ground or vegetation itself. No two are exactly alike, just variations of the theme: bed, study, sitting area, and petite private bath, built for no more than two adults. "We have tried to highlight how little we actually need to achieve a sense of well-being," says Slinning. Inside, the design is minimal to the point of monotony — on purpose. At the end of the day, the point is not the decor, but the roaring Valldøla River and majestic fjords after which Juvet is named.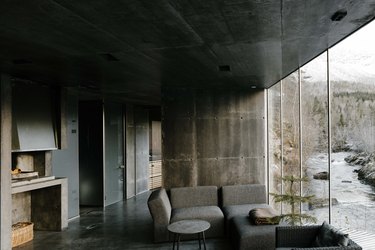 "Never before have I stepped outside into the wilderness by entering a building," says Carola Hoyos, a journalist for The Financial Times, who stayed at Juvet in 2013. "It is this rare encounter with nature through architecture that makes Juvet special."

That's exactly what the architects with Jensen & Skodvin, out of Oslo, aspired to — dwellings that would not intrude upon nature, but rather exist in harmony with the landscape of which they are a part.
Indeed, the cabins themselves seem to disappear into the landscape — especially as fall turns to winter, when the graying pine panels, treated with iron vitriol to intensify aging, echo the grays of the surrounding woods. Each cabin is set at a slightly different angle for ultimate privacy, even though one or more of the walls are glass with no window coverings. The interiors are painted with black-pigmented oil to minimize reflections in the floor-to-ceiling windows.
In addition to the cabins, there is a separate spa building with a sod-covered roof and 100-year-old farm buildings that can be used for events. (The cow byre is used for entertaining, while the old pigsty is the kitchen.) A new multipurpose "ceremony" room, for instance, is part of the ever-evolving nature of Juvet — and Slinning's self-proclaimed "urge to create." (He is currently permitted to build up to 19 more rooms.)
Juvet is an achievement, especially for someone who had no experience in hospitality or tourism, just a love for nature and the majestic landscape of the country he calls home.
"To be naive sometimes takes you a long way," says Slinning.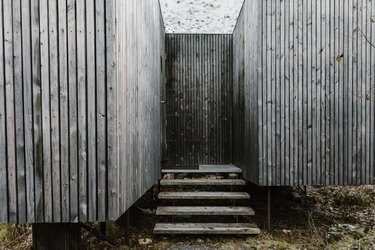 Each cabin is constructed of spruce with pine panels. And no two are exactly alike.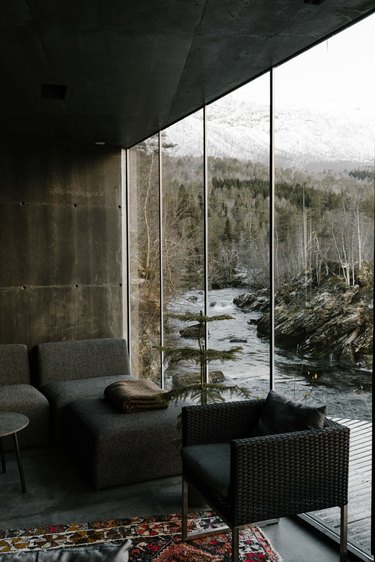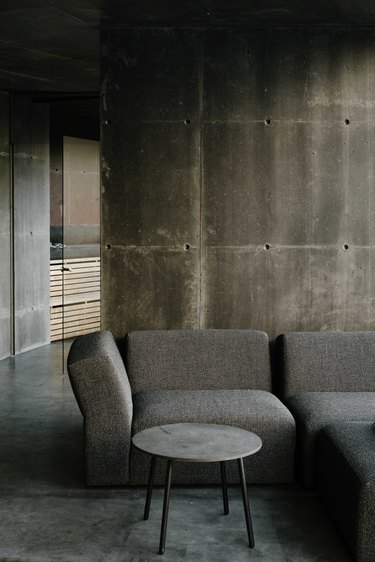 The interiors are purposely spare, with rugs and textiles adding small bits of texture and color.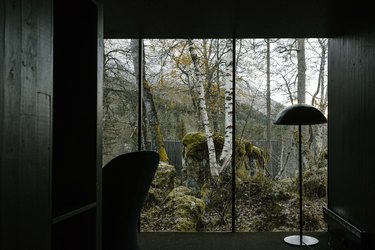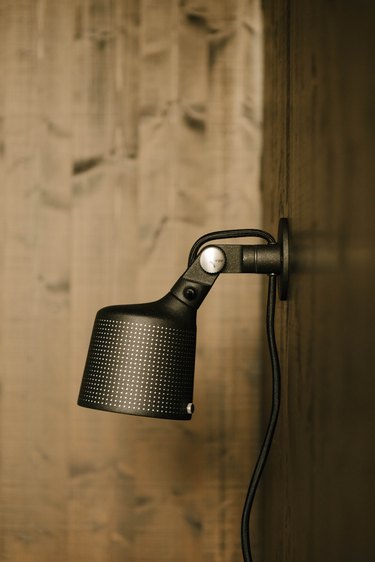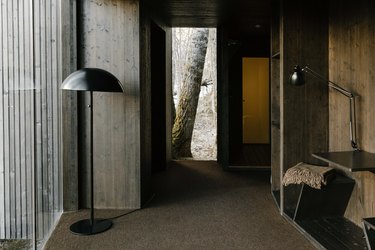 Lighting, says Slinning, was one of the more difficult design challenges. It was hard to find lamps and other objects "that didn't draw attention," he says.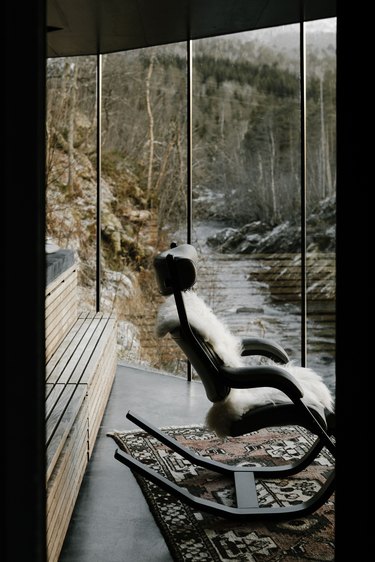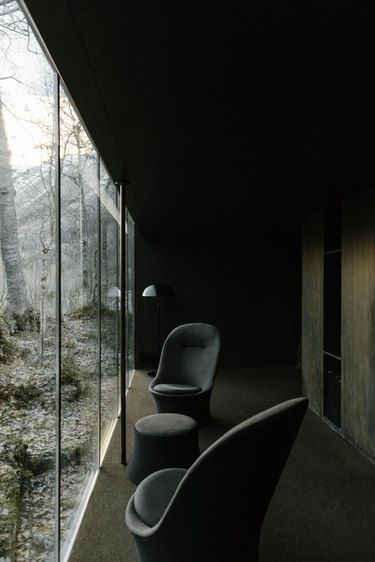 "The landscape rooms are minimalistic, with big windows that act almost like a movie screen where the nature is playing out," says Slinning. "Dark interiors and no disturbing features really draw the attention to the outside and makes you feel at ease and mindful, enjoying the silence, only disturbed by the sound of the river floating by."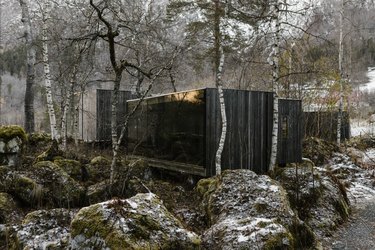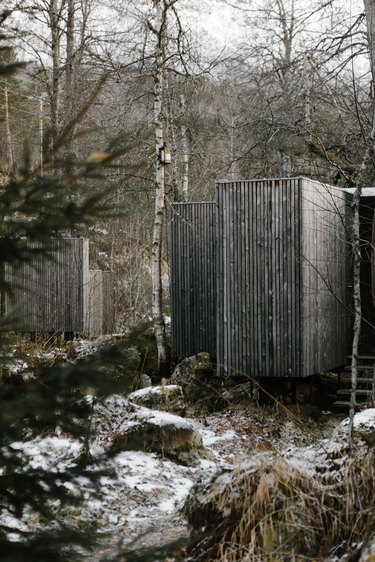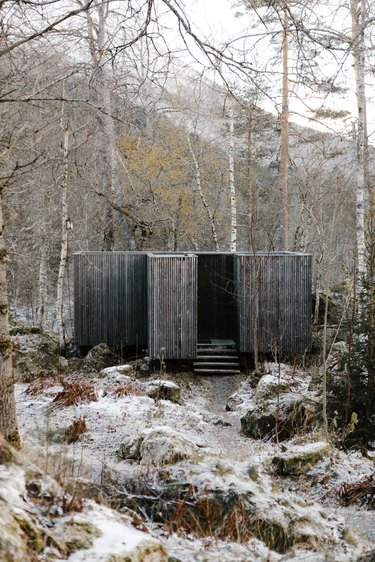 "Building the landscape rooms, we didn't want to do anything to disturb the ground or nature," says Slinning. "All the rooms are sitting on metal poles, so if one day the rooms were to be removed or dissolved we won't leave any marks after us in nature."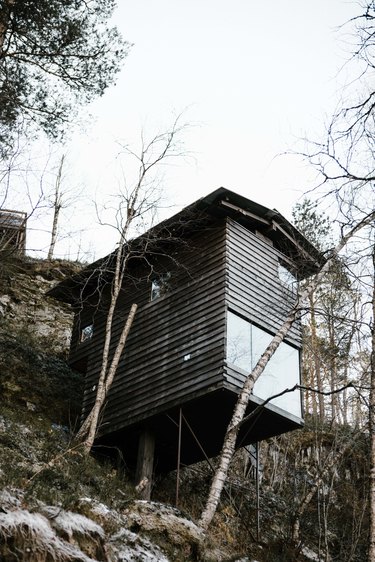 The "birdhouses" were constructed over 2012 and 2013. These two single-room cabins are fashioned after old Norwegian "stabbur," a separate small log house for storing food.
The birdhouses soar meters above the forest floor.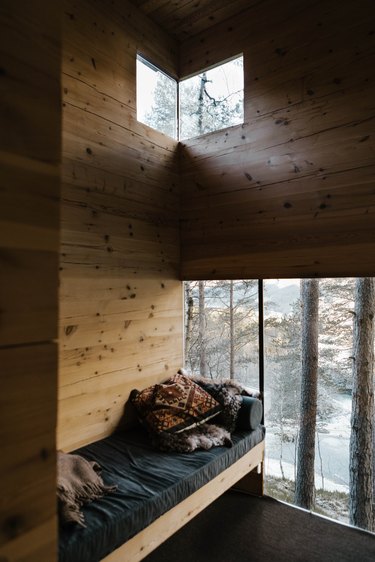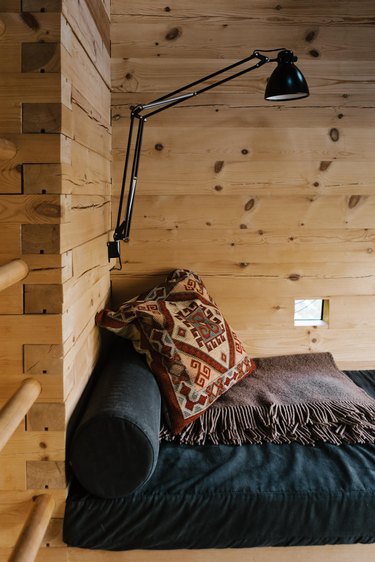 Inside, the walls, floor, and ceiling are all pine. "This creates a kind of monotony in the expression that allows for a greater variation when it comes to other elements," according to the architects.
The nearby mountains can stay snowcapped through August. Juvet remains closed from mid-December through mid-February, the height of winter.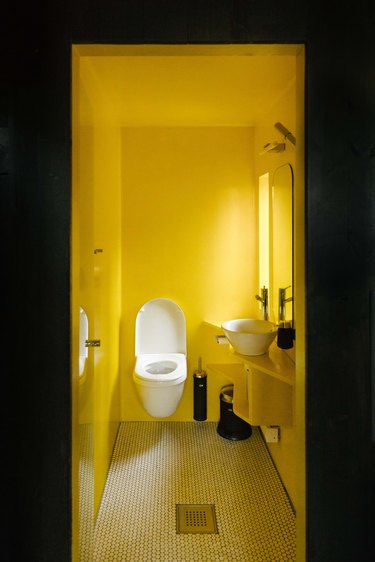 While minimalism reigns, there are pops of color — notably, in the cabin bathrooms.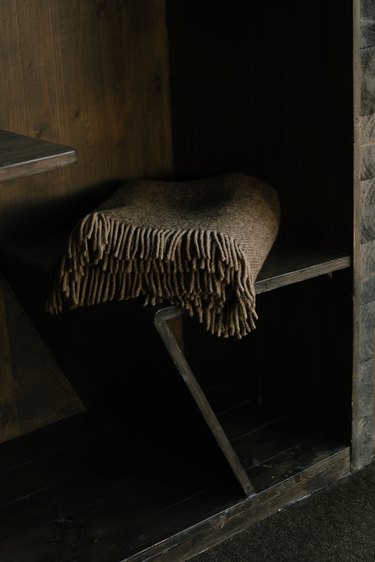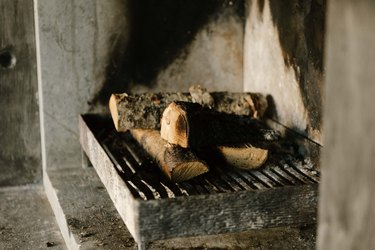 And every room has its own fireplace.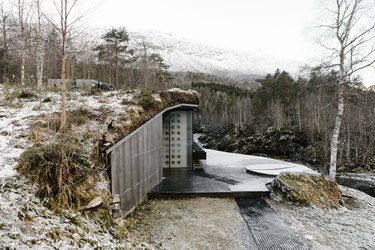 The communal spa sits directly above the Valldøla River.
It's where guests in the birdhouses, which lack private baths, can bathe. There is a sauna as well.
Juvet is truly somewhere you have to see to believe. "People can see lots of images of Juvet Landscape Hotel, Burtigarden, and the surrounding scenery on the internet," says Slinning. "But no matter how many pictures our guests have seen before they arrive, when they get here, they are awestruck."