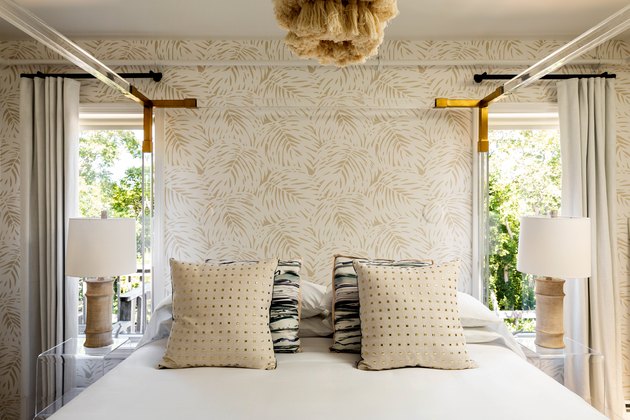 The Massachusetts summer scene has been due for a shake-up for some time now. Of course, there's something to love about the coastline's old time-y B&Bs, campsites, and just-above-basic roadside inns. But Meg Butcher and Rob Blood (of full-service creative shop Butcher & Blood) were looking to do something a bit edgier when they decided to update a midcentury motel in Provincetown. Now called AWOL, the 30-room property opened earlier this summer.
"It was your typical coastal motor lodge," says Blood. "It was dated but well cared for." That left the duo with the freedom to create a hotel that embraces the oceanside — sans cheesy nautical knots or sea glass. They kept the decor simple and earthy with linen bedding and rattan details. Or, in Butcher's words: "Layers of fabric that felt a little bit tattered, a little bit burlap-y, and lived in." The goal, overall, was not to distract from the environs, so each AWOL room has a private outdoor space. "At high tide, it's just beautiful blue water," Blood says.
---
Based in Wisconsin, Kristine Hansen covers art, architecture, travel and food/drink, and lives in a 1920s bungalow.
View Work