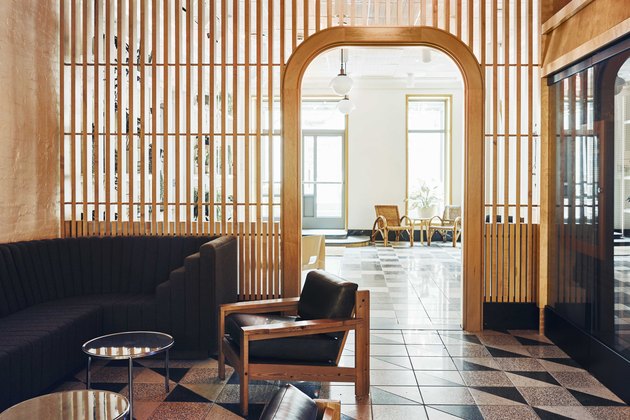 Inspired by serene Scandinavian design, Sister City opened earlier this year in the unlikeliest of places . . . Manhattan's bustling Lower East Side. But that's entirely intentional.
"We wanted to create a mindful and grounding space in one of the busiest cities of the world," says Kelly Sawdon, Chief Brand Officer and Partner of Atelier Ace/Ace Hotel Group, which operates the hotel and created its design.
Looking beyond the explosion of interest in hygge (the Danish term that roughly translates to "coziness"), Sawdon also turned to Japan, famous for its minimalist interiors. You can especially see this influence at Floret, the on-site restaurant with crisp white walls, columns, and ceilings paired with narrow, open slats on a wall screen.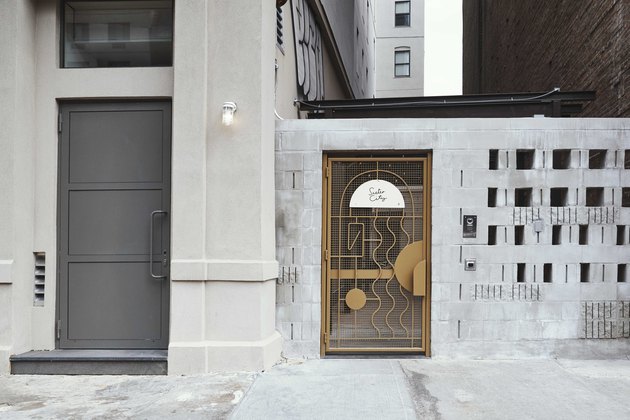 1 of 9
Exterior
Sister City's unassuming entrance is typical of a Manhattan boutique-sized hotel — until you spot the geometric-patterned gold doorway adorned with its logo.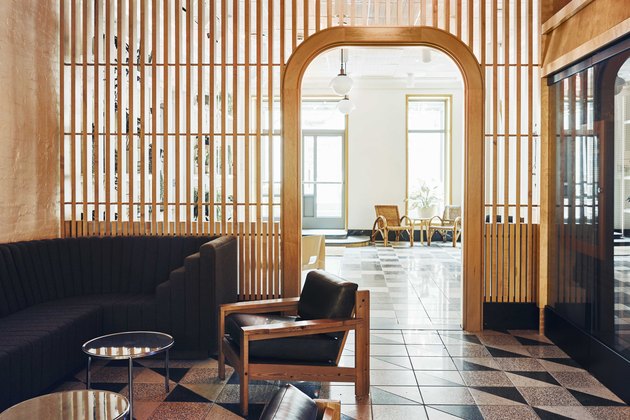 2 of 9
Lobby
"The skylight in the lobby filters in natural light, but uses an unorthodox geometric pattern and muted color palette," Sawdon says. The birch interior create an immediate sense of calm.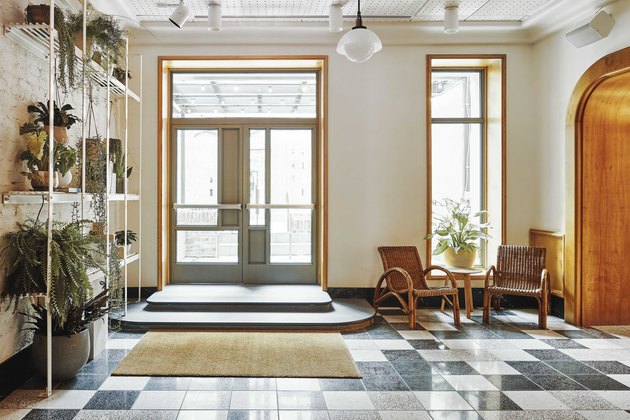 3 of 9
Lobby
"The Lobby Score, a first-of-its-kind AI audioscape in collaboration with Julianna Barwick, is one of the ways we wanted to design music as part of the Sister City experience," Sawdon says. "The inclusion of plants, serene interiors, and the use of Headspace's meditation app all provide balance — and a springboard for the guests themselves to animate."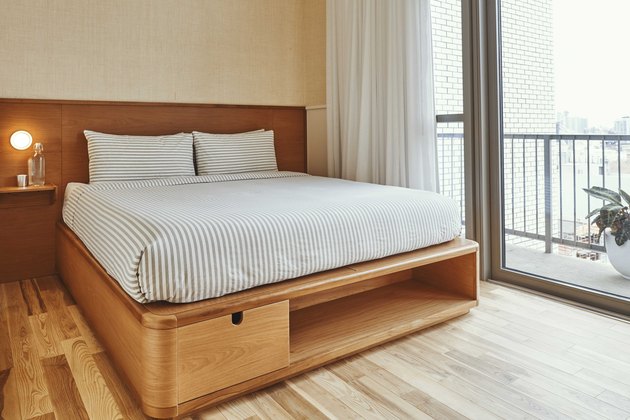 4 of 9
Room
Each of the 200 guest rooms acts as an oasis. Thanks to their minimalist design, they are a welcome break from the frenetic city life just outside.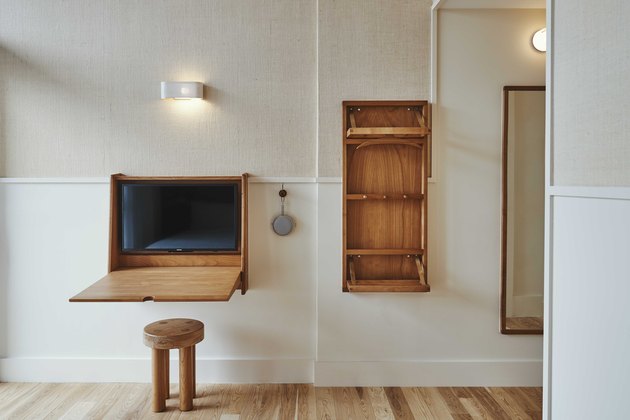 5 of 9
Room
To combat small room sizes, the hotel "added modular furniture in rich Italian cherry wood including a flexible, intuitive valet, a TV stand that folds down to a desk, and built-in storage for the bed frames," Sawdon says.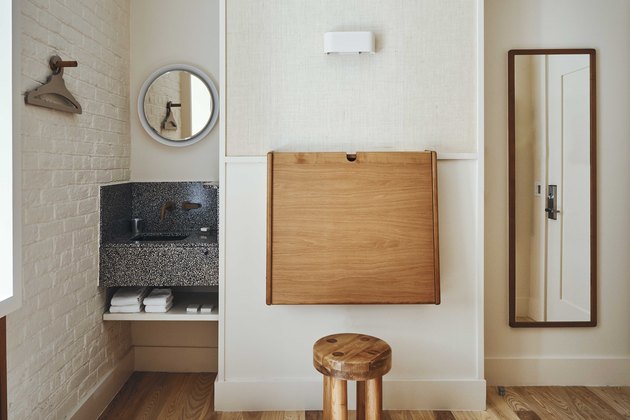 6 of 9
Room
"We kept the walls of the rooms clean, but added in visual anchors like the custom terrazzo vanity, circular lit mirrors, and original Noguchi lamps," Sawdon says.
7 of 9
Bath
Each room's walk-in shower gleams with white tiles on the interior and exterior walls, making the bath seem larger.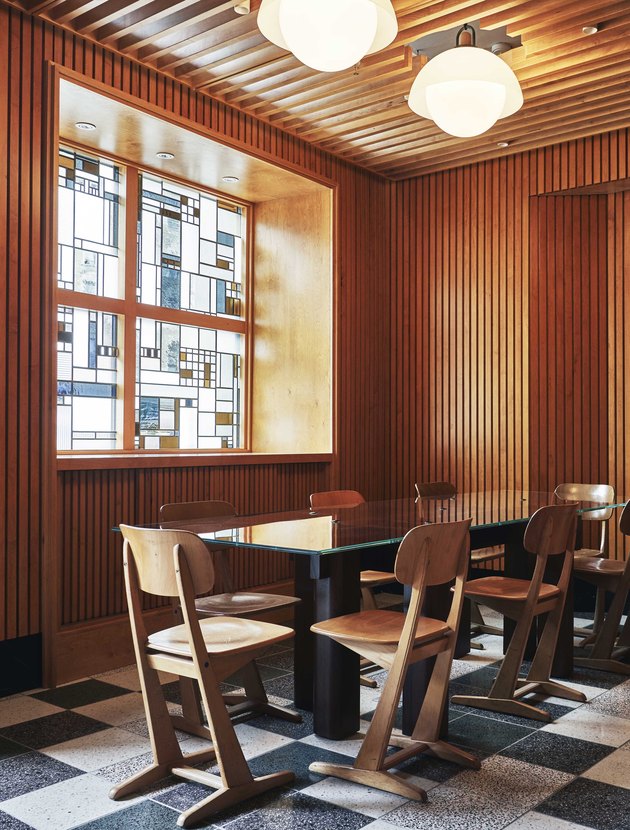 8 of 9
Floret
Prairie-style stained-glass windows, honeyed woods, and Danish-style chairs create a cozy nook within Floret, the hotel's restaurant.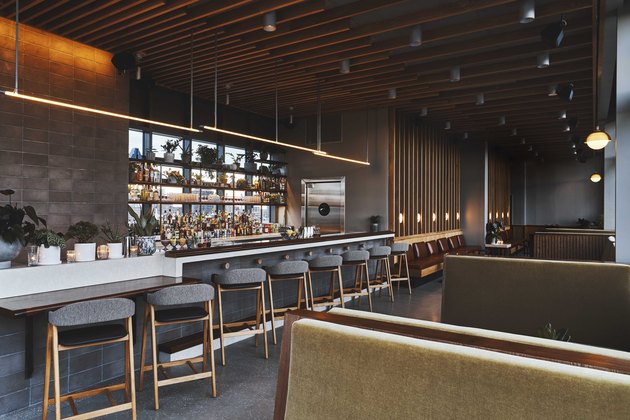 9 of 9
Last Light
Felted heather gray bar stool backs and natural materials are paired with potted plants and minimalist lighting at Last Light, the hotel's rooftop bar. Built-in banquettes are a smart use of space.
---
Based in Wisconsin, Kristine Hansen covers art, architecture, travel and food/drink, and lives in a 1920s bungalow.
View Work