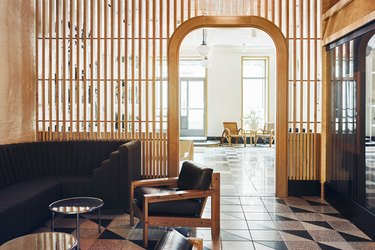 Inspired by serene Scandinavian design, Sister City opened earlier this year in the unlikeliest of places . . . Manhattan's bustling Lower East Side. But that's entirely intentional.
"We wanted to create a mindful and grounding space in one of the busiest cities of the world," says Kelly Sawdon, Chief Brand Officer and Partner of Atelier Ace/Ace Hotel Group, which operates the hotel and created its design.
Looking beyond the explosion of interest in hygge (the Danish term that roughly translates to "coziness"), Sawdon also turned to Japan, famous for its minimalist interiors. You can especially see this influence at Floret, the on-site restaurant with crisp white walls, columns, and ceilings paired with narrow, open slats on a wall screen.