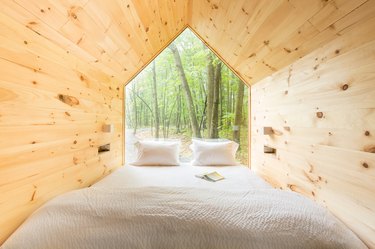 New York City's Penn Station is only a two-hour-and-fifteen-minute Amtrak ride from the Hudson station, a fact that attracts urbanites hungry for a few days in the countryside. A 25-minute drive gets you to idyllic town of Coxsackie. Jacqueline Brown and Amna Ali (of Jaambral Design) made the trek so often, they finally moved there — and opened the dreamy, nature-focused hotel and event venue Gather Greene.
"We were living in New York City with what a lot of people feel — starvation for nature," Brown explains. "Also, for our design practice, we wanted more space, more air, and more opportunities."
So, they got to work transforming the location they fell in love with: a former dairy farm with stunning views. "When we got the property, it was 100 acres with a little house on it and the shale quarry," Ali says. Wells were drilled for water, and electricity and a septic system were added. A new rock path allows guests to walk into the middle of a pond.
"When we started, we felt this was going to be one of the projects we'd take on," Ali says. Three years later, it's proven to be a work in progress — and the only project they are focusing on, proof this is where they are meant to be.