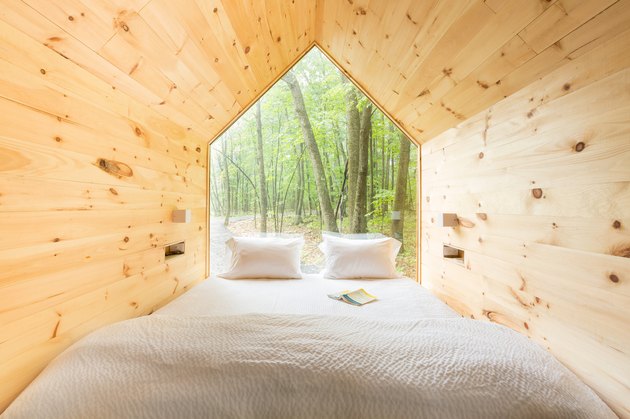 New York City's Penn Station is only a two-hour-and-fifteen-minute Amtrak ride from the Hudson station, a fact that attracts urbanites hungry for a few days in the countryside. A 25-minute drive gets you to idyllic town of Coxsackie. Jacqueline Brown and Amna Ali (of Jaambral Design) made the trek so often, they finally moved there — and opened the dreamy, nature-focused hotel and event venue Gather Greene.
"We were living in New York City with what a lot of people feel — starvation for nature," Brown explains. "Also, for our design practice, we wanted more space, more air, and more opportunities."
So, they got to work transforming the location they fell in love with: a former dairy farm with stunning views. "When we got the property, it was 100 acres with a little house on it and the shale quarry," Ali says. Wells were drilled for water, and electricity and a septic system were added. A new rock path allows guests to walk into the middle of a pond.
"When we started, we felt this was going to be one of the projects we'd take on," Ali says. Three years later, it's proven to be a work in progress — and the only project they are focusing on, proof this is where they are meant to be.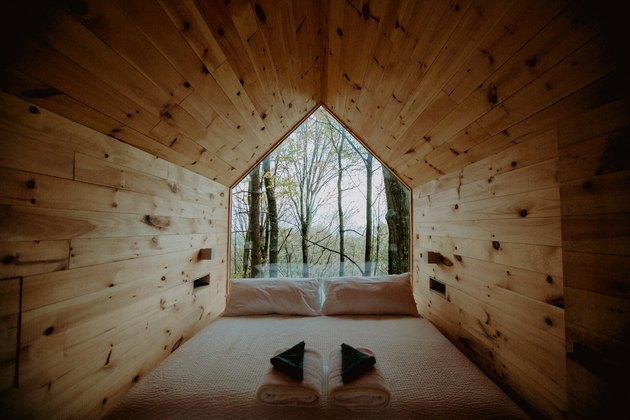 1 of 9
Cabin
At Hotel Greene, guests sleep in minimally designed cabins.
"The (Brooklinen) towels are just like blankets," says Brown. "They're so soft."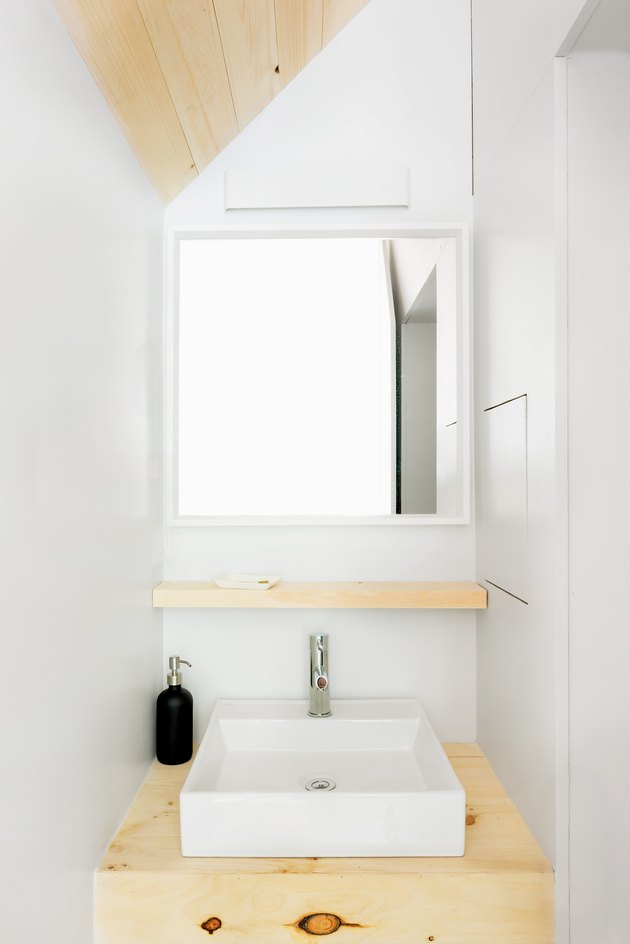 2 of 9
Bath
Toiletries in the cabins and pavilion are sourced from apothecary-minded 2 Note — so named because owners Carolyn Mix and Darcy Doniger are musicians — in a signature scent (Opus) that's very subtle.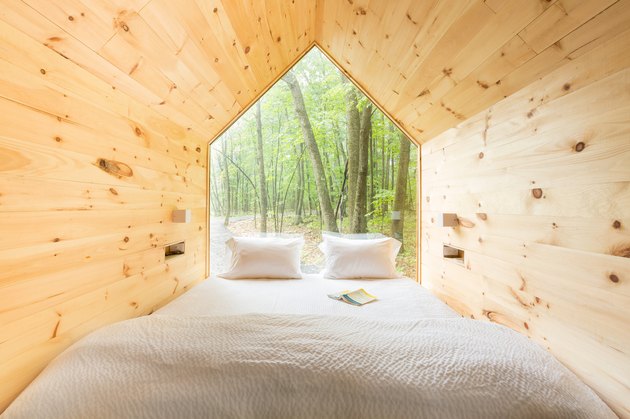 3 of 9
Cabin
A summer spent in Copenhagen together inspired the Pratt Institute grads' love for Scandinavian design, especially the Dutch term gezellig. Roughly translating to a cozy, comfortable feeling with friends, the term inspired the duo to consider "blurring the boundaries between indoors and outdoors," according to Ali.
Many furnishings are custom designs — made by Brown and Ali. "If we don't like something, we just build it," Ali says.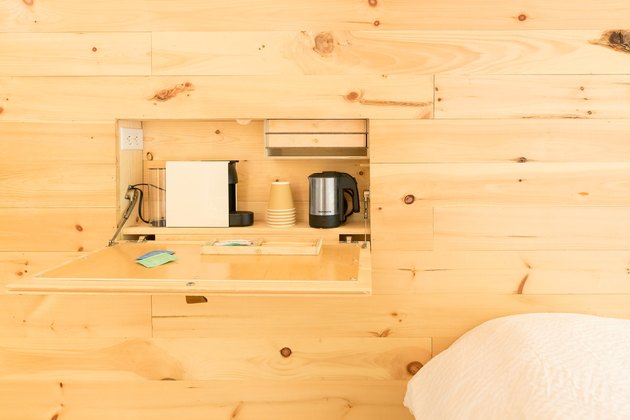 4 of 9
Cabin
It was important that each of the cabins had coffee — but not just instant coffee. Kuju Coffee in San Francisco makes single-serve coffees designed to be brewed using a pour-over method. "These two brothers were Eagle Scouts who started it," says Brown. "They weren't finding anything to fit their coffee needs while camping."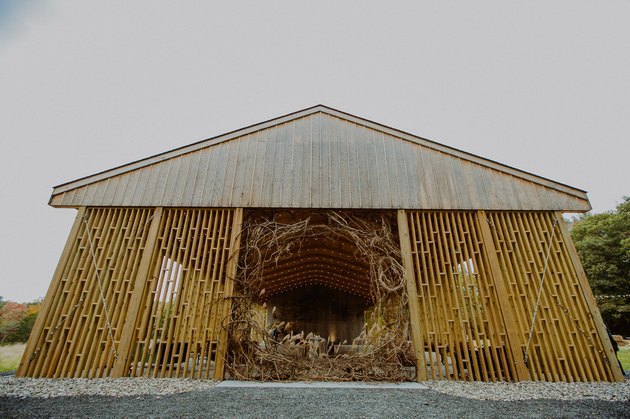 5 of 9
Pavilion
Open latticework walls and usage of natural materials make the pavilion an ideal spot for guests to relax with a book during the day or get to know others. Gather Greene is designed for groups — with small, private places to sleep and large communal areas.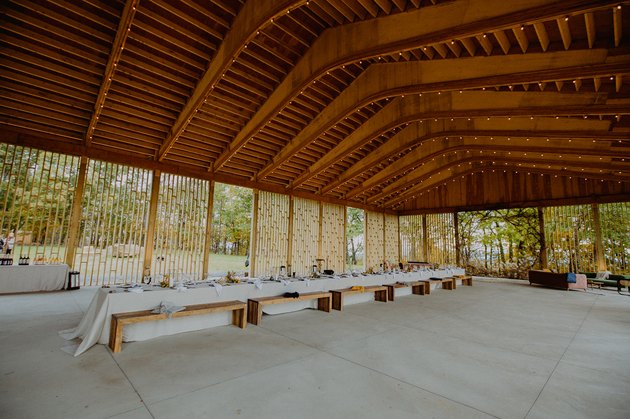 6 of 9
Pavilion
Weekend reservations fill up first at the cabins, as they're a popular choice for wedding guests attending ceremonies on-site. Soon, Gather Greene will accommodate corporate retreats during the week, further utilizing the pavilion.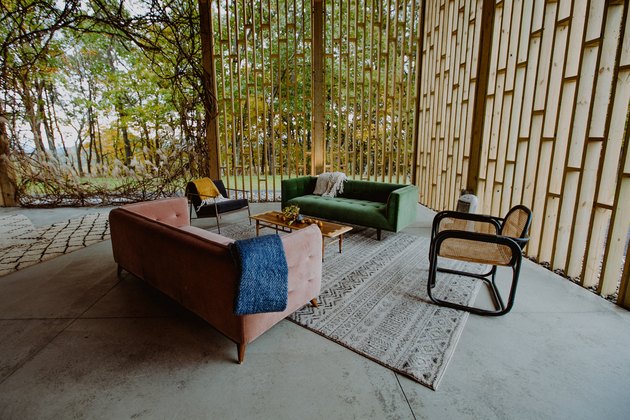 7 of 9
Pavilion
This conversation area — with colorful, mismatched furnishings in Scandinavian and midcentury modern style — inside the 4,000-square-foot pavilion helps break up the massive space.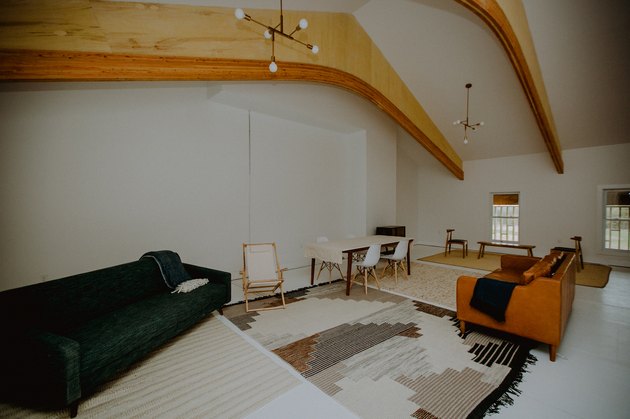 8 of 9
Pavilion Suite
There are two suites in the pavilion designed for brides and grooms to get ready on their wedding day. The spaces feature high ceilings and a cozy seating area for the wedding party.
9 of 9
Pavilion Suite
Vintage mirrors and an antique sofa complete a suite lit by modern gold-brass light fixtures. Guests can get ready for an event while enjoying views of nature and a light breeze.
---
Based in Wisconsin, Kristine Hansen covers art, architecture, travel and food/drink, and lives in a 1920s bungalow.
View Work