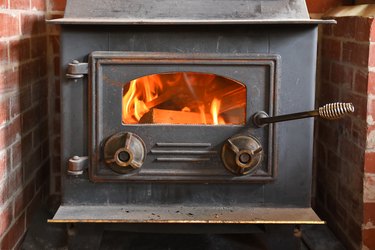 In addition to offering cozy warmth and a rustic appearance, wood stoves allow incredible versatility in terms of installation. You can install them virtually anywhere in your home, as long as the ventilation pipe can be routed outside. But to maximize their heating effect, you need to place certain materials under, behind and around the stove to create a wood stove surround. Typical wood burning stove surround materials include tile, brick, and stone.
Purpose of a Wood Stove Surround
A wood stove surround acts just like a hearth for a fireplace. It's made of non-combustible materials that protect the immediate area around the stove from stray embers or sparks. Without this safety feature, home fires pose a real threat.
Plus, wood stove surround designs add to the aesthetic beauty of a wood stove and the overall decor of the home. Many people choose to add to the traditional look of a wood stove with a surround made of natural materials. However, you can play around with different colors and placements to create eye-catching and modern looks. Just think about the possibilities with tile alone.
But the primary purpose of a wood stove surround, in which the fireproof material goes up the wall behind the stove, is to store heat and slowly release it back into the room. This improves the already significant heating capacity of the wood stove. That's why the best wood burning stove surround materials are fire brick, stone or another material that retains heat and can passively heat the room even after the fire in the stove burns out.
Placing a Wood Stove for Efficient Heat
Wood stoves offer more flexibility in placement than a fireplace. They can literally sit in the middle of the room, if that's what you desire, or you can renovate an existing fireplace and hearth to hold a wood burning stove. But consider placing the stove in a corner, facing diagonally out toward the room, both for maximum safety and to make efficient use of the passive heating capabilities of wood burning stove surround materials.
This allows you to place the wood stove surround panels behind the wood stove and on both of the walls beside it. With this design, the amount of brick, stone or tile effectively doubles — and so does the stove surround's ability to absorb heat.
Required: Wood Burning Stove Hearth
Although it offers efficient heating if the right materials are used, a wood burning stove surround is completely optional. But even if you think a surround seems like overkill, you definitely need to have a hearth under your wood stove for safety. Each stove comes with its own manufacturer's recommendations for hearth clearance, so it's ideal to know which stove model you want before you start installing a hearth.
If you have the budget for it, you can purchase pre-made wood burning stove hearths that you simply place onto the floor. You don't even have to glue these to the floor underneath because the weight of the wood stove keeps it in place. On the other hand, the do-it-yourself option requires intermediate skills for tiling, bricklaying or grouting.
There's no crucial difference between a flat and raised hearth. However, many people find that a raised hearth brings the wood stove to a more accessible level for loading wood. The raised ledge can also make it a little easier to sweep debris into a dustpan. Consider these factors when making a decision about your hearth design.