As energy costs escalate, heating the home is expensive for many. A wood-burning stove is a pricey investment for installing, but if fuel sources are plentiful and accessible for you, and you have the space to store a winter's worth of wood, it may be a wise long-term plan.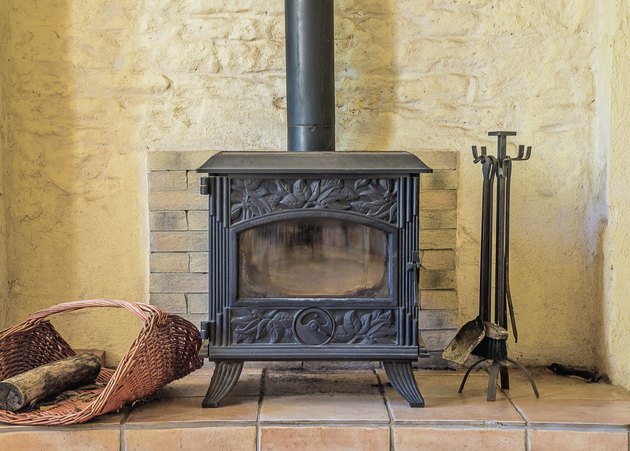 Wood Burning Stove Basics
All wood stoves are not created equally. Buying one should come down to its efficiency and the size of the space you're trying to heat up. Because it's all about fire, the outside gets very hot as it's cast iron that radiates the heat outward. So small children and pets need to stay away.
Installing a stove must be done safely. Some require as much as three feet of clearance from everything combustible nearby, including the walls. A heat shield installation can reduce this clearance, like a heat-rated tile wall. Manufacturers will tell you the required safe distance for the make and model of each stove.
Stove pipes and vents leading to the chimney are an important part of wood stove safety and efficiency. Pipe elbows reduce safety as they cause creosote build-up, which can be dangerous if not cleaned out annually. Creosote is an unavoidable by-product from burning, but curing wood properly and cleaning your stove and chimney once a year keeps stoves running safely while also keeping heat output at the maximum efficiency.
Stove Efficiency Matters
Modern wood stoves are 50 percent or more efficient than old ones, thanks to the U.S. Environmental Protection Agency (EPA) standards imposed in recent years. Today, catalytic wood stoves are extremely efficient while dramatically reducing emissions. The EPA has a list of certified wood heaters, current as of October 2018, available on their website, and these stoves meet or exceed Clean Air Act compliance standards.
And clean air matters because the more emissions your stove creates, the less efficient it is in converting energy to heat.
Can Wood Stoves Get Too Hot?
Absolutely. This is a risk with older wood stoves that may have flaws, such as damage or old welds. Generally, modern stoves have safety features to prevent getting too hot, which is called "overfire."
Explained simply, overfiring is akin to a blacksmith's metal forge, where the fire is stoked with enough fuel and oxygen that it gets so hot that it can melt steel.
To reach excessive levels, wood stoves have a "high burn" air-control device. This is handy when starting a fresh load of fuel or trying to get a frigid home tolerably warm after a cold day out. It's fine to use "high burn" mode to get things going, but after things start to warm up, you want to be using the "low burn" mode to maintain the temperature and maximize each log's energy potential.
Recommended wood stove temperature range is between 110 to 250 degrees Fahrenheit.
It's important to note that today's stoves allow for efficient controlling of airflow. By controlling how much air gets in, you dictate how slowly the wood burns. Burn wood too quickly and you're wasting heat. Once you use a stove a bit, you'll quickly learn the ideal zone for heating your home efficiently and getting the most out of every log you burn.
What Wood Should Be Burned?
What you burn dictates how hot your stove is, how long the wood burns and how well your home heats up. Hardwood and softwood are so named because of the density, and softwood is a bad fuel as it burns too quickly.
Denser hardwoods not only will weigh heavier and burn longer but will also pack a higher BTU output. Wood weighs far more when wet, so to "cure" wood for ideal burning conditions, you should allow it to dry for six months before burning. Otherwise, you're wasting wood and causing excess creosote build-up.
The Firewood Resource is a great reference for explaining the weight per cord of firewood and the expected BTU output. A "cord" is 128 cubic feet of stacked wood. The most efficient American hardwood for burning is live oak, which weighs a whopping 7,870 pounds when "green" and 4,840 pounds once cured for six months. Its output is 36.6 million BTUs per cord. Compare that to, say, the soft Lodgepole Pine, which has a heat output of 22.3 million BTUs per cord and weighs 4,270 pounds green and 2,580 when cured.
With the right hardwood and an efficient modern wood stove, it's possible to stay warm all winter long at a great price.
---
Steffani Cameron is the daughter of a realtor and interior decorator mother and a home contractor father. Steffani is a professional writer with over five years' experience writing about the home for BuildDirect and Bob Vila. Raised with a mad love for decorating, Steffani gave up her Art Deco apartment to travel and work remotely for five years. She's in love with experiencing traditional decor around the world, including stays in Thai teak plantations on the Mekong River and cave homes in Turkey.
View Work