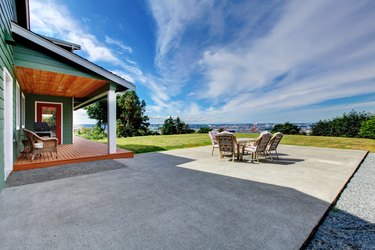 Concrete is an incredibly durable, weather-resistant patio surface, but over time, it can develop cracks or become unpleasantly rough. Luckily, smoothing rough concrete or resurfacing it can be an accessible DIY project. The key to success is knowing the right steps to take and the right tools to use.
Clean the Surface Before Smoothing Rough Concrete
Every successful concrete resurfacing project begins with a thorough power wash of the existing surface. Using a gas-powered pressure washer, evenly hose down your entire patio. Fitting your pressure washer with a 25-degree fan tip and keeping the stream between 6 and 8 inches from your patio surface works best. If you come across any mildew, mold, or algae during the power wash, treat the affected areas with a concrete wash.
Examine Rough Concrete for Cracks
Now that your concrete is wet, it's the ideal time to fill in any cracks. The best way to do this is by combining 7 parts resurfacer with 1 part water in a 5-gallon bucket. Mixing is best accomplished using a paddle mixer attached to a power drill. Fill in the cracks and divots with your freshly mixed resurfacer and smooth it all out with a finishing trowel. Leave this to dry and harden for roughly five hours.
Once the cracks are all filled in and have dried to the point where you can stand on them and no dents form, it's time to cover your entire concrete surface with a fresh layer of resurfacer. Protect any joints in your patio by filling them with peel-and-stick foam weatherstripping. To mix this layer of resurfacer, you'll want to combine half a bag of resurfacer with roughly 5 1/2 cups of water. Once the solution is ready to go, be prepared to work quickly. The resurfacer only remains malleable for 20 minutes.
Working in sections, spread the resurfacer to roughly a 1/8 to 1/4 inch thickness. Twenty minutes after your application, remove any weatherstripping. Each section will need about six hours to dry. Once you've covered your entire patio with resurfacer and the resurfacer has dried, seal your freshly smoothed patio with a layer of penetrating sealer.
How to Prevent Future Concrete Cracks
Ensuring your freshly refinished cement patio stays crack-free is all about controlling the concrete's drying time. If the weather is too hot and your concrete dries too quickly, its surface will weaken, making future cracks more likely. In this instance, you'll want to regularly wet the concrete with a hose to create a sustained drying time. Alternatively, you do not want your drying concrete to be exposed to freezing temperatures. The best way to protect against this is to attempt these kinds of projects during warmer months of the year.