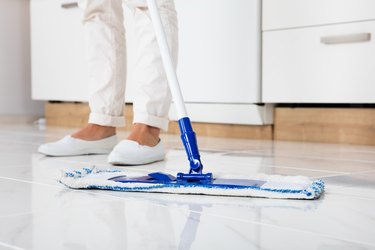 Linoleum floors are exceptionally versatile, durable and easy to maintain. Famous for their strength, flexibility and various appearances and styles, linoleum floors are very popular in spaces like kitchens, bathrooms, laundry rooms, mudrooms and other high-traffic places where chores are done.
Linoleum Floor
Linoleum is one of the easiest materials to clean, but it can also attract a lot of buildup. Liquids and aerosols like hairspray can get stuck to the surface of linoleum, making it difficult to feel like the floor is getting clean, even when you go over it with soap and water.
Sticky products like hairspray, cooking spray, honey, sugar and soda can coat linoleum with a fine film. Many household cleansing products only polish the surface of the linoleum, but to get hairspray off a linoleum floor, you will need to use a cleanser with a higher acid content than the average household floor cleaning product.
Although scrubbing at a laminate floor isn't a good idea, you will need to use some special treatment to get hairpsray off. Try applying rubbing alcohol to the affected area, and then scrubbing the area with a soft cloth in a circular motion. The rubbing alcohol will help break the bonds in the hairspray, loosening it enough so that you can buff it away.
Hair Spray Removal
If you look at pictures of hairspray buildup, you'll see that the layers of hairspray eventually begin to trap dirt, grease and oils from the air and from foot traffic. These layers of dirty buildup begin to cover the surface of the floor, making it hard to see the clean floor underneath. In fact, hairspray buildup can lead you to believe that the surface of your floor is dirtier than it actually is.
Hair spray removal isn't complicated, but if you let hairspray build up for too long on linoleum tiles, you will have to put in some effort to get things clean. Begin cleaning the linoleum by sweeping it clear of any dust, debris or dirt particles. Next, apply a solution of 2 parts warm water and 1 part white vinegar. The vinegar will cut the grease and help you loosen its hold on the laminate.
Repeat applying the vinegar and water solution to the floor until you've reached the surface of the floor. If several rounds of the vinegar and water solution don't sufficiently clean the floor, you might need something a little more abrasive to lift the gunk off the linoleum.
Baking Soda for Hairspray Removal
Just as baking soda is used by hairdressers to treat and remove buildup in people's hair, baking soda is also used as a cleaning agent for surfaces. Baking soda has an alkalizing property and an abrasive quality that can cut through grease and buildup, which will help clean hairspray off linoleum floors.
Apply sufficient baking soda to cover the area that has been affected by he hairspray. If the entire floor has been affected by hairspray buildup, work in sections. Cover a section with a liberal amount of baking powder and add enough warm water to turn the baking soda to a pasty consistency. Once you've made the baking soda paste, take a sturdy cloth or towel that has been dipped in hot water and use it to make circular rubbing motions on the surface.
Work the baking soda gently against the floor. This should dislode any remaining hairspray buildup that has accumulated. Finally, rinse the area with warm water, taking care not to saturate the linoleum. Water seeping under linoleum can cause it to separate from the subfloor. Use a damp cloth to rinse the area, and be sure to dry any excess water.