Mop & Glo, like other water-based acrylic cleaners and polishes, works best on flooring that is appropriate for waxing. Although you can safely use the product on ceramic tile floors without damaging them, it may leave an unsightly, oily or sticky film behind. If you've used Mop & Glo several times, there may be a buildup on the ceramic tile. You can remove the product residue using common household products, including some eco-friendly options.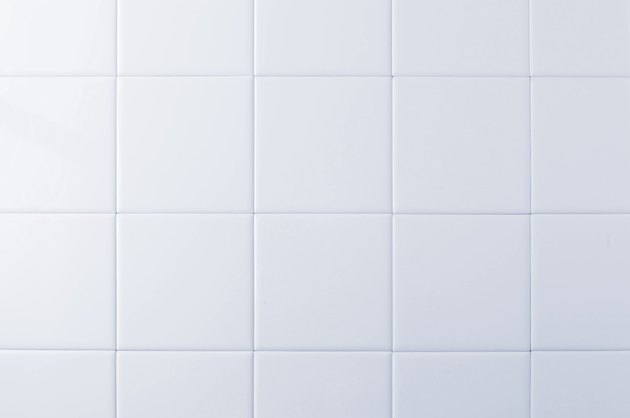 credit:
kuppa_rock/iStock/Getty Images
Mild Detergent and Hot Water Method
If you need to remove Mop & Glo residue from your ceramic tiles, first try removing it with a mild dish-washing detergent. To make the cleaning solution, fill a bucket with hot water and add a few drops of the detergent, stirring to mix. Clean the tiles using either a chamois-style mop or a rag, depending on how big of an area you're working on. Avoid using a sponge mop, which can cause dirty water to get trapped in the tile grout. Rinse the tiles with plain hot water and allow them to air-dry.
The acid in fresh lemon juice may be able to remove the waxy buildup if the soap and water method didn't work. Add about a 1/2 cup of fresh-squeezed lemon juice to a gallon of water and apply it to the tiles using either the chamois-style mop or rag. Rinse with plain water and either allow the tile to air-dry, or buff it dry with a soft, lint-free cloth.
Distilled White Vinegar Method
Another mild acid-based tile cleaning option is distilled white vinegar. To make the solution, mix 1 gallon of warm water with a 1/2 cup of vinegar. Depending on the size of the area you're cleaning, you can either spray the mixture onto the floor using a plastic spray bottle or apply it using the chamois-style mop. You won't need to rinse the vinegar cleaner with plain water as it isn't sticky and won't leave a residue behind. Either allow the floor to air-dry or buff dry with clean, soft towels or a shine mop.
Laundry Detergent and Ammonia Cleaning Method
If you tried the other cleaning methods and there is still a Mop & Glo buildup on your ceramic tiles, put on protective gloves and mix 1 gallon of warm water, 1 cup of laundry detergent and a 1/2 cup of ammonia in a bucket. Be sure to open a window as ammonia releases strong fumes. Use a stiff-bristled brush to work the solution into the tiles, working one small area at a time until the entire floor is clean. Rinse the tile clean with plain water and air-dry or buff-dry the flooring. Mop & Glo's manufacturer recommends up to 1 cup of ammonia per 1/2 gallon of water for removing old layers of polish.
Test your ammonia mixture in an inconspicuous area before proceeding, and never mix ammonia and bleach because it will generate toxic fumes.