Stock your kitchen not just with snacks and drinks but with a few essential tools. These basics will make the difference between a functioning kitchen that allows you to prepare meals rather than just a room with a sink and some counters. Whether you plan to prepare elaborate haute cuisine meals, or just make a quick soup and salad lunch, the proper equipment makes food preparation easier.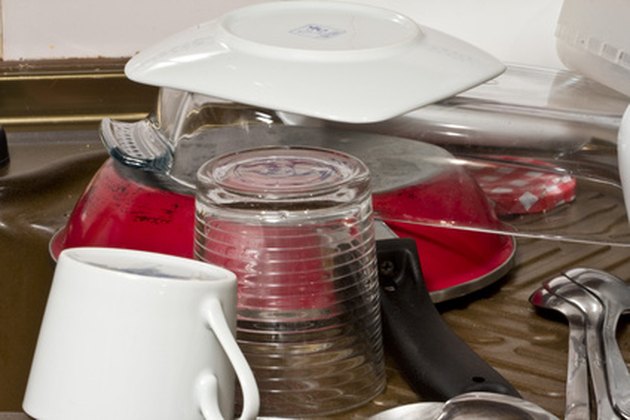 Four basic pans can handle most of your cooking needs: a medium-size frying pan and small, medium and large saucepans. Cooking experts have their favorite materials for pans, some prefer cast iron, others copper, both of which tend to carry a heavier price tag. If you can afford to, avoid the cheap, lightweight type of aluminum pans as the savings is only short-term; these do not stand up to much use. If you plan to roast meat, bake cookies, or even just heat up a frozen pizza in the oven, you will also want one or two baking sheets.
Whether chopping vegetables, carving a roast, or simply paring an apple, a good blade makes the job easier. A good chef's knife is essential, the size you buy depends largely on the size of your hands. If you plan to cook any fish, poultry or meat, you will also want a boning knife and another for filleting. You will also want blades designed for peeling and paring. Crusty bread is easiest to cut with a serrated knife.
For whipping up a souffle, a salad dressing or just gravy, you'll want some mixing bowls to hold your ingredients as you mix them. You will also want a wooden spoon and non-stick spatula. Buy some basic measuring cups and measuring spoons as well.
A few basics you might not think about, but whose absence will hinder you when trying to cook include can-opener, colander, oven mitts and cutting boards. Other less essential items you may want to consider, depending on what and how often you plan to cook include a bottle opener, corkscrew, thermometer, grater, whisk, tongs, rolling pin, slotted spoon and vegetable brush.
Assuming you already have the basic refrigerator and stove set-up covered, other kitchen appliances you invest in depend on your tastes and what you eat. A few items to consider include: toaster, toaster oven, microwave, blender, food processor, bread machine, rice cooker, and coffeemaker.