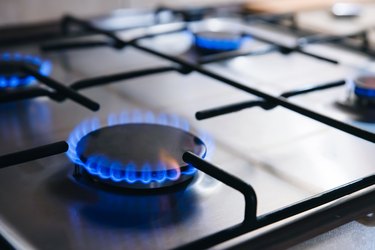 For over seven decades, JennAir has created high-quality appliances. These fixtures are well loved for their kitchen innovations, like the cooktop designed to be installed in any kitchen countertop. They invented the self-ventilated downdraft range and revolutionized the home kitchen. Today, the company offers fully customizable stove top designs that have well over 100 options, making it possible for homeowners to truly cook up the kitchen of their dreams. Keeping a JennAir cooktop sparkling helps make any kitchen look state-of-the-art and enviable.
JennAir Cooktop Parts
For cleaning purposes, there are only two basic categories for JennAir cooktops — induction ceramic cooktops or gas burners. Removable electric coil burners are no longer made by JennAir. The cleaning process is different for the gas and ceramic cooktops.
The JennAir induction cooktop surface is smooth and glass-like ceramic, with all operational parts hidden beneath the stove top. Even the controls are done through heat- and pressure-operated buttons. On the flipside, the gas cooktops have grates over the burner to suspend the pots and pans, potentially a removable cast-iron griddle and removable knobs. Whatever cooktop type you have, if you can safely clean up spills as they happen during cooking, then that's wise to do. But safety first, you can always clean it later.
Cleaning JennAir Induction/Ceramic/Radiant Cooktops
The stove should be completely cool for best cleaning results. Lock the control panel before cleaning. JennAir's official parts website offers a 10-ounce bottle of affresh®, designed for nonabrasive cleaning of the cooktop. Even if you choose to clean with more natural household products like vinegar, it's best to spray the surface and let it sit a moment before cleaning it. Microfiber cloths and sponges are best, but paper towels won't scratch the surface either.
In some instances, you may have cooked-on residue that leaves unsightly black marks. Use a razor blade to carefully scrape these marks off. Just angle the razor away from you, at around a 30- to 45-degree angle and lightly chip away at the residue.
These surfaces may look fragile, but they're tough, well made and intended to be easily cleaned. Never scour, use abrasive cleaners or use oven cleaner on cooktops of any kind.
Cleaning JennAir Gas Cooktops
Gas cooktops come in stainless and porcelain surfaces, and both are averse to steel wool and abrasive cleaners or techniques. They take a bit more work, but it's worth it. In fact, an unclean gas stove will perform below its best ability or even malfunction because the gas distribution will be impeded.
Both types of gas cooktops have the same general cleaning steps. Start by turning the power off. Remove and soak the grates in warm soapy water (or wash on aggressive dishwasher settings). Once well soaked, a scrub brush will help remove the cooked-on foods. The stove surface can be sprayed down with cleaner, but avoid the burner, cap and electrode. Let it soak until it's easily scrubbed. Repeat if needed. You can rid the stubborn residue with a plastic scraper.
The burner caps can be washed in soapy water — but be thorough because, according to JennAir's cleaning and care guides, a clean burner means more even distribution of flames and easier ignition. Never replace the burner cap until it's completely dry. Be sure to match the alignment pins with the cap so it "sits down" into place correctly — it will fit snugly and have barely any side-to-side movement. Check the electrode to be sure it's not encrusted with anything and gently wipe clean if so. For both kinds of stoves, the knobs can be pulled straight up and washed in warm, soapy water.
---
Steffani Cameron is the daughter of a realtor and interior decorator mother and a home contractor father. Steffani is a professional writer with over five years' experience writing about the home for BuildDirect and Bob Vila. Raised with a mad love for decorating, Steffani gave up her Art Deco apartment to travel and work remotely for five years. She's in love with experiencing traditional decor around the world, including stays in Thai teak plantations on the Mekong River and cave homes in Turkey.
View Work