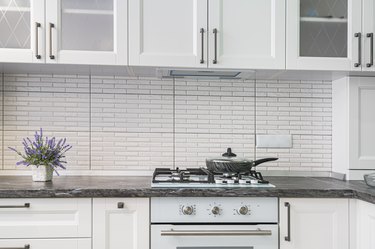 Purchasing a brand-new gas oven range can be quite the big-ticket item, which is why you want to ensure the longevity of your appliance. Although cleaning a Frigidaire gas range can be pretty straightforward, if you use the wrong cleaning supplies, you can severely damage the machine. You may be tempted to buy a myriad of supplies, but when cleaning Frigidaire gas stove top parts, less is more.
Cleaning a Frigidaire Gas Range
Before you start cleaning a Frigidaire gas range, make sure everything is turned off. If you don't, there's a possibility that you'll be burned while cleaning surface burners or other cooktop parts. To maintain the longevity of your gas range and avoid Frigidaire self-cleaning oven problems, you should consistently clean the cooktop.
Don't use any abrasive cleaners on the cooktop and always wipe it clean with a damp cloth. For general cleaning, use hot, soapy water, and for bigger messes, apply liquid detergent onto the stain and let it soak for 30 to 60 minutes. After you wipe the cooktop clean, dry it off.
Cleaning Burner Grates and Caps
Before cleaning Frigidaire gas range burner grates, make sure that they're cool. According to the Fridgidaire manual, the only thing you should be using to clean the grates is a nonabrasive plastic scrubbing pad and mildly abrasive cleanser. You don't want to leave food or oil on your grates because this can break down the finish. Dry off the grates immediately after every wash.
Before cleaning Frigidaire gas stove top burner caps, they also need to be cooled down. You can wipe the caps with a plastic scrubbing pad or an absorbent cloth. When you clean the burner caps, thoroughly clean the underside of the cap as well because dirt and food can get stuck there.
Don't use abrasive cleaners here either because they can scratch the porcelain off the cap. Also, you should never put the caps in the dishwasher because that can damage them. After you clean the burner caps, dry them thoroughly.
Cleaning Surface Burner Heads
Another area that's important to clean is the burner heads and slot. According to the user manual for a Frigidaire self-cleaning oven, keeping these areas clean ensures proper gas flow. Remove the cap and clean the area with a damp cloth. Make sure to extract any food that's between the burner slots because food often gets stuck there.
You can clean the burner slots by using a toothbrush or any other type of small nonabrasive brush. After you remove any food particles, wipe up the surface with a damp cloth.
Cleaning Burner Head Ignition Ports
Before cleaning Frigidaire gas range ignition ports, make sure that there aren't any blockages. If you have ignition problems, that means that the porthole is most likely soiled. According to the Frigidaire manual, you need to keep the burner head in place, and using a small wire or the end of a paper clip, clear out the ignition port.