When it comes to home improvements, ladders are an invaluable tool. Whether it's fitting lights, reaching ceilings or painting walls, a ladder can give you the boost you need. But when it comes to using a ladder on steps, you can run into some problems. Typically, ladders are designed to stand on a flat surface, so reaching up high from an uneven terrain is tricky. But a Little Giant Ladder can help.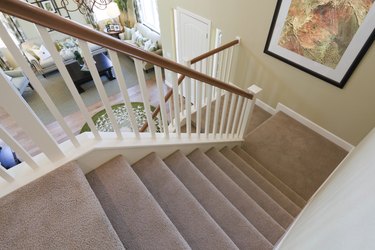 What Is a Little Giant Ladder?
Little Giant Ladders are designed to be the strongest, safest and, most importantly, most versatile ladder in the world. Each of their ladders has the potential to be an A-frame, an extension ladder, a step ladder and even form scaffolding. This means they can be constructed in a way that allows them to be used on uneven terrains, such as stairs. Little Giant supplies ladders to decorate staircases. Little Giant Ladders are also four to five times more durable than other ladders and can bear much more weight.
How Can It Be Used on Stairs?
First, in order to transform your Little Giant into a stair ladder, unlock your hinge locks and move the ladder into the A-frame position. Then, pull both slide locks out of one side of the ladder and extend this side to the desired height. One side will now be longer than the other. Reinsert the slide locks to lock the sides into place.
Then, move your Little Giant ladder over to the stairs. Here, using the slide locks, you can adjust each side or slant to the desired length to stand on separate stairs. You can adjust each side accordingly as you move up or down the staircase.
Another way to use a ladder on stairs is through a device called a ladder aide. A ladder aide acts as an easily adjustable micro-platform, which allows both feet of your ladder to remain level even when working on steps.
Safety Tips
One important safety tip for all ladder users, especially when working on stairs, is to check and double check the slide locks. You should test the locks while the ladder is on flat ground.
Once on the stairs, it's important to check around the bases of your ladder for sufficient space. You don't want it too close to any edges. You also want to make sure the ladder is placed directly on the floor, rather than on any sort of mat or rug, which could move.
Take immense care when using your Little Giant Ladder as a stair platform. Make sure you're wearing appropriate shoes, and that your ladder is as close to the wall as possible for extra support. If you can, ask someone to hold the ladder for you for even more assurance.