The only way to safely use a ladder on stairs is to invest in an adjustable ladder, such as a Little Giant Ladder. Adjustable ladders allow you to adjust the A-frame on one side of the ladder, which then can be used on stairs. Using an adjustable ladder will make projects that are impossible with a standard ladder, such as painting a stairway ceiling, much easier and safer to perform.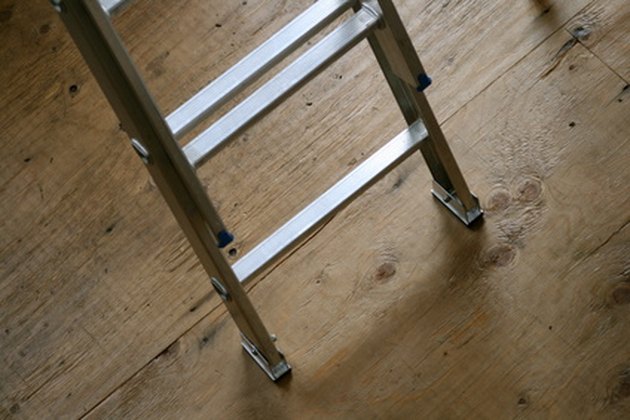 Step 1
Choose a ladder appropriate for your project. Adjustable ladders come in various shapes and sizes. Extending folding ladders are the best choice for working on stairs.
Step 2
Move the ladder to the set of stairs you will be working on with the help of another person.
Step 3
Open the ladder out into a A-frame shape.
Step 4
Pull open the side locks and adjust the height of one of the sides to reach the lower set of stairs and lock both side locks in place.
Step 5
Adjust the second side if it needs to be shorter in order to balance the ladder in the same way. The shorter side of the ladder will be towards the top of the stairs.
Step 6
Check to be sure that all four bases are securely placed on the steps.
Step 7
Have your helper hold the ladder in place for extra security.