You should always exercise caution when using a ladder. Taking the appropriate safety precautions is one of the best ways to minimize the risk of a potential injury resulting from a fall. But this is doubly important when setting up a ladder for uneven surfaces like hills and sloped driveways. The uneven ground can cause the ladder to shift or slip as you ascend, increasing your risk of injury significantly. Minimizing this risk is possible, but it requires some additional safety measures you might not use on a level surface. You should always inspect your ladder for any issues before using it, whether your job calls for a level or uneven placement. And remember: Never place your ladder on rocks or spare timber.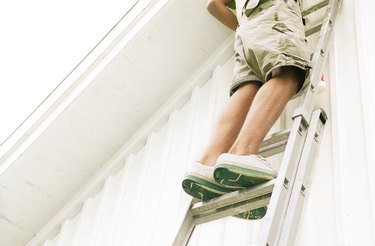 Lashing Your Ladder
Although not a perfect solution, one of the fastest and easiest methods of securing a ladder for a slope is to lash it. Essentially, this involves using rope, cable or a ladder lashing kit to tie the rope to a secure point in order to prevent it from slipping or falling as you climb up. When lashing your ladder, it's advised to secure it at ground level, halfway up, and finally at the top, ideally with one or a few friends helping to ensure that the process is done safely. A ladder stabilizer tool can accomplish the same effect, though you will likely need to bolt your ladder to the device.
Cleats and Ladder Leveling Feet
If lashing still results in a ladder that feels unsafe, there are a variety of ways to secure the bottom of the ladder further, locking it into a fixed position. The majority of these take advantage of ladder leveling feet, which will allow you to better position your ladder at angles. "Cleats" can be added to your leveling feet by screwing one or more wooden 2x4s to the back and sides of the feet to keep the ladder from slipping backward.
Building a Work Platform
Though it can be expensive and time-consuming, the safest way to secure your ladder for an uneven surface is to build scaffolding for the uneven terrain. Often, this is done by building a small wooden platform designed for the ground in question, with supports to ensure that the ladder can be placed without risk of slippage. These platforms should not tip, rotate or slide when stood on and should be level surfaces themselves.