Unsealed concrete floors absorb moisture, leading to mold and mildew problems. Unsealed concrete floors also are dusty, which could be a problem for folks with allergies. A sealed floor improves the appearance of a drab concrete floor. Options to inexpensively seal concrete floors include clear silicone sealers, as well as latex and acrylic floor sealers.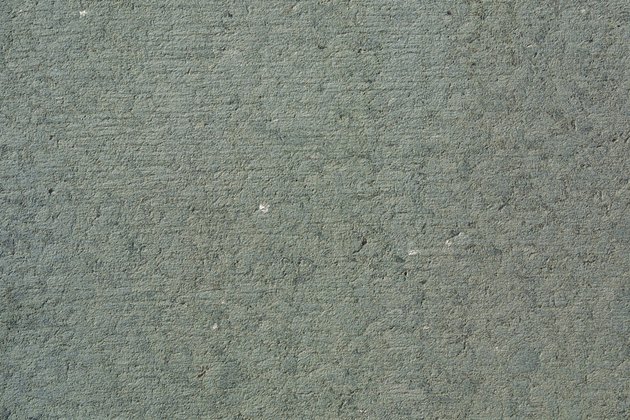 credit:
Hemera Technologies/AbleStock.com/Getty Images
Whether it's a concrete floor at a home or business, flooring product supplier NOR-MAR Enterprises says the benefits to sealing a concrete floor include a healthier and cleaner environment; reduced lighting needs; an improved appearance; and longer-lasting concrete.
One of the least expensive ways to seal a concrete floor is to do it yourself. Dummies.com suggests making a homemade sealer consisting of equal parts of boiled linseed oil and turpentine. If you would rather not make it yourself, hardware stores sell a variety of sealers.
Not having to buy the tools needed to seal the concrete yourself will obviously save money. However, Bill Volk of DIY Life says expect to spend up to $200 if you don't have the necessary tools readily available. Necessary tools include a non-metal broom, vacuum cleaner, 5-gallon bucket, hose and nozzle, mop, scraper, painter's tape, floor squeegee, paint tray and ½-inch nap roller.
Volk says preparing the concrete before sealing not only helps with the application, but a clean, smooth surface is also a cost-savings measure—you won't have to buy more than necessary. Volk bought five gallons of sealer at $25 per gallon. The application rate for each gallon was 150 to 300 square feet. With two people, Volk finished his project of staining and sealing a 1,300-square-foot concrete floor within four hours.
According to NOR-MAR Enterprises, the least expensive commercial sealants are clear silicone, latex and acrylic floor sealers. The company says clear silicone sealers are not as durable, especially with heavy traffic, and must be applied at least twice a year. Clear silicone sealers reduce dust, but are primarily made for water damage protection. Durability issues also plague latex and acrylic floor sealers. NOR-MAR Enterprises says these sealers are not resistant to chemicals, but are good for keeping dust down, and look nice. These sealers also need to be applied twice per year.