Laminate floors are made of pressed wood, with a plastic layer printed to resemble hardwood floors. These floors are durable and easily installed and maintained. While these floors resist scratching, staining and nicks, the floor may lose its initial luster over time. It's possible for a do-it-yourselfer to resurface a laminate floor by restaining or smoothing the surface, though floors with severe damage cannot be resurfaced.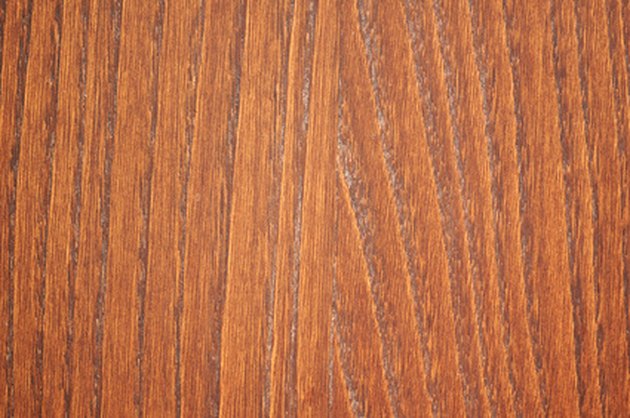 Step 1
Sweep all dust and debris off the floor with a broom and then mop the floor with a cleaner and water mixed in a bucket. Allow the floor to thoroughly dry.
Step 2
Sand the floor with an orbital sander, using 220-grit sandpaper. This makes the surface rough, creating small grooves for the stain to adhere to.
Step 3
Sweep the sawdust from the floor with the broom. Mop the floor just damp enough to pull the dust up but not wet the floor. You have broken the plastic moisture barrier and don't want water to sit in the laminate.
Step 4
Apply stain to the floor in a corner away from the room exit. Dip a clean towel into the stain and wipe it across the floor. Go with the "grain" of the wood to keep the feel of the hardwood floor. Work in small sections, wiping up the excess with the towel. Allow the stain to dry for 8 to 12 hours.
Step 5
Apply laminate sealer to the floor, using a paintbrush. This creates a moisture barrier and smooths the surface. Allow to dry for 24 hours.