Things You'll Need
Heat gun

Wire brush

New boards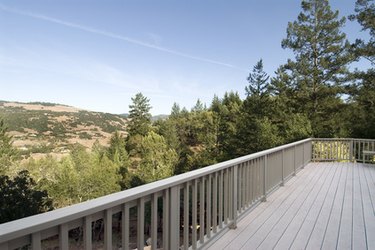 Composite decking material is made up of recycled material such as hard plastics and wood. The composite material was developed to help extend deck life without the repairs needed by wood decks. Splitting, cracking and rotting boards are never a problem for composite decks. Composite decks never need to be sealed or repainted. However, due to normal wear and tear, scratches can happen on the composite decking.
Step 1
Allow scratches to fade normally; after time and weather take their toll on the scratch, it should fade and be less noticeable.
Step 2
Hold a heat gun no closer than 7 inches to the scratched surface of the decking. Use a wire brush to scrape in the same direction of the grain while using the heat gun on the area. The heat gun softens the decking so the brushing can blend the scratch into the decking. The brushing will bring on a color change as the non-weathered surface is exposed. Allow the brushed surface to fade naturally in the weather and sun.
Step 3
Replace boards if the scratches are deep gouges and cannot be brushed or faded out.
---
Laurie Durkee has been a freelance writer since 2009. She is published on eHow, where she specializes in gardening, home decorating and home improvement. Durkee attended classes in behavioral science at Southern Maine Community College.