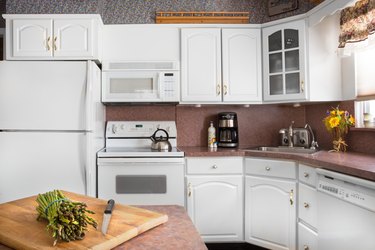 Formica countertops can put up with a lot of chopping, mixing and sliding of hot pots and pans over the shining surface. This can lead to dings, gouges and a countertop dull with tiny scratches in the protective coating of the Formica.
However, if you stain a laminate countertop, the small imperfections from all that action in a busy kitchen that can make it look dull and dingy can be camouflaged and the shine returned to the surface.
Prepping Formica Countertops for Staining or Painting
Even dulled Formica countertops with gouges and dings need to be further roughed up to ensure that the surface is smooth and ready to accept a stain or paint. A good Formica stain paint will roll on easily and smoothly across the surface of a well-prepped countertop.
Begin by roughing up the laminate surface with a diamond-embedded sanding block. Use small, quick circular motions to get an evenly sanded surface. Continue to sand until the glossy surface is completely removed and the Formica is dull in appearance.
Wipe down the surface of the Formica countertop with a wet cloth to remove dust leftover from the sanding. A handheld vacuum works well to remove the fine particles from the surface as well. Apply a mild lacquer thinner to a dry cloth, wipe it over the surface and then rinse it off to remove any bits of stuck-on paint or sealant. Cover areas that can get splattered or inadvertently covered by paint or stain.
Painting and Staining a Formica Countertop
Once the area is well prepped, you can move on to painting or staining.
General Finishes recommends using a good stain with a protective sealant and rolling it on in waves over the surface, allowing enough drying time between each coat. The surface should be roughed up as much as possible to get the gel stain to stick to the nonporous surface. The Formica countertop may require up to three or four coats to achieve the desired finish.
Painting countertops to look like granite isn't too difficult if you're looking to add texture and style to a bland Formica surface. Complete granite paint kits are available online and at big box home improvement stores. They include all you need to finish the project well, from the sandpaper to the tools and chips to add to the paint after it's rolled on.
Using Rustoleum to Stain or Paint Formica
Painting countertops with Rust-Oleum is easy with some of the many kits that are available specifically for this type of refinishing. Rust-Oleum is durable and comes in a wide variety of colors as well as a kit that contains all you need to stain Formica countertops in an array of textures and styles. You can use a Rust-Oleum Transformations kit over a Formica countertop that was already treated with a product if the surface is sanded, according to Rust-Oleum.
Roll on the Rust-Oleum paint in small, even batches, moving from one side of the countertop to the other. If using decorative color chips or another additive on the countertop, add them when the first coat is still wet. Add additional coats as necessary for the style you're trying to achieve.