Things You'll Need
Canvas drop cloths

Trisodium phosphate or a TSP alternative

Rubber gloves

Cotton dust mask

Protective eyewear

Bucket

Sponge

Scrub brush

Garden hose

240-grit sandpaper

Broom or dust brush

Acrylic latex exterior primer

Paint roller and extension pole

Roller tray

Porch paint
Tip
Start this project when no rain is forecast for two days and outdoor temperatures fall between 50 and 95 degrees Fahrenheit.
You can use ordinary dish soap in place of the TSP, but TSP will cleanse your decking and help degloss the surface before priming.
You can use a special exterior bonding primer, also known as an adhesion primer, in place of the all-purpose acrylic primer. While more expensive, these primers establish a better foothold that will extend the performance of the porch paint.
Porch paints are formulated to better hold up against outdoor foot traffic.
You can use a pump garden sprayer in place of the roller for applying primer and paint.
Warning
Wear rubber gloves, a cotton dust mask and eye protection when working with trisodium phosphate. To avoid any potential skin irriation, you should also wear long pants and a long sleeve shirt.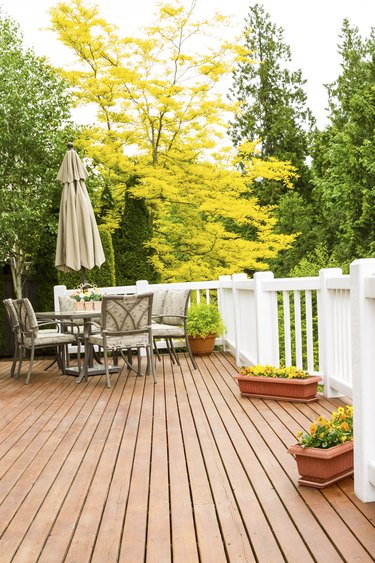 Composite decking is often touted as a maintenance-free alternative to lumber, yet over time its original color will fade, and some individual boards can become stained by spills. Composites aren't designed to be as paintable as natural wood planks, but they can accept paint if the deck is properly cleaned, prepped and primed. A topcoat of porch paint can then restore beauty to your deck and extend its life for several additional years.
Step 1
Cover any foliage or paved areas with canvas drop cloths or high-quality plastic drop cloths.
Step 2
Mix up a batch of trisodium phosphate in water at the recommended dilution on the product's label. Some communities have outlawed TSP for environmental reasons, but products labeled as TSP alternatives work are comparably effective cleaning products.
Step 3
Apply the TSP to your composite decking with a sponge. Use a scrub brush on any areas of the deck that are particularly dirty or greasy.
Step 4
Rinse off the TSP solution with your garden hose and allow the deck to dry.
Step 5
Sand the decking with a 240-grit sandpaper in the direction of the grain texture in order to gently degloss the plank. Wipe the sanding dust away with a broom or dust brush.
Step 6
Pour some acrylic latex exterior primer into a roller tray.
Step 7
Apply the primer to the decking with a paint roller, moving the roller along the length of the planks. Attaching an extension pole to the roller handle will allow you to paint while standing upright.
Step 8
Clean the roller tray and roller in running water while the primer is drying -- which usually takes one to two hours, or as recommended on the product's label. When the primer has dried, pour the porch paint into the roller tray.
Step 9
Apply the porch paint to the decking with the roller, and allow it to dry completely before adding a second coat. Dry times vary, so read the manufacturer's directions for recommended recoat time.
---
Mike Matthews is editor of Green Building Product News, a national publication that covers sustainable innovations in building and remodeling, and he has spoken at national conferences on green building. He has also served as founding editor of "Paint Dealer" magazine.