MDF, or medium density fiberboard, is made from bits of wood that are fused together and pressed into solid sheets. You can use MDF to construct cabinets, furniture and molding. Cabinets made from MDF are often coated with a thermofoil coating. Thermofoil resembles paint, but is more resistant to stains. Refinishing MDF cabinets cannot be done in the traditional sense because you cannot sand away the original finish and apply a coat of stain. However, you can paint MDF with good results.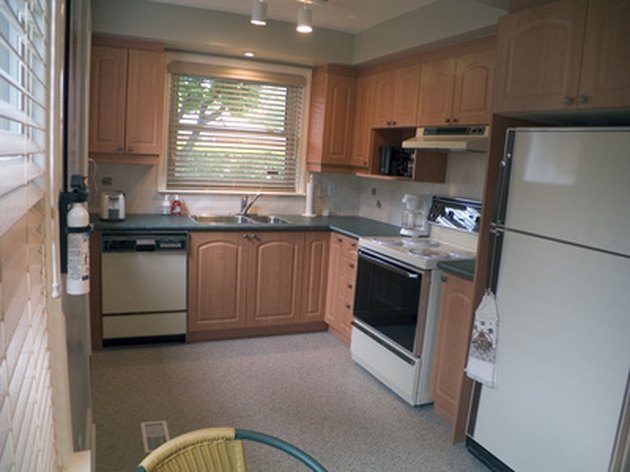 Step 1
Clean the cabinets with trisodium phosphate (TSP) to completely remove any grime or residue from the surface. TSP will also dull the shine of the thermofoil cabinets, making it easier to paint. Find TSP at your hardware store with the other cleaning products.
Step 2
Remove the doors and drawers from the cabinets. Label each piece to note its original location. This will help you put all of the pieces back in their original location once you are done painting.
Step 3
Sand the cabinets lightly with medium grit sandpaper. Rough up the surface of the furniture to create texture that will allow the primer to adhere to the MDF. Do not remove the top layer of thermofoil. Wipe away sanding dust with a damp rag.
Step 4
Prime the cabinets with a primer for slick surfaces. Apply the primer with a small trim brush in all corners and areas that you can't reach with a roller. Follow with a roller to smooth out seams and prime the large, flat portions of the cabinet frames, doors and drawers. A smooth, foam roller is best for these types of applications because it applies the primer in a thin, even coat. Allow the primer to dry completely.
Step 5
Paint the cabinets with interior latex or acrylic paint, using the same method used to apply the primer. Apply two to three coats of paint, allowing each to dry before applying the next.
Step 6
Apply a urethane topcoat using a good quality, clean paintbrush. Small bubbles may appear in the surface of the topcoat. The bubbles will disappear as the urethane dries. Apply one to two coats of polyurethane.