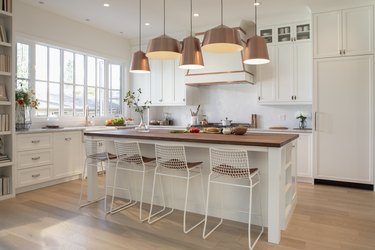 The kitchen is one of the most used rooms, day in and day out. If it is a drab or outdated space, then it can be a less-than-ideal area to wake up to or finish off your day. Kitchen cabinets can set the tone for the entire active indoor space, and if they are dingy, then a quick coat of paint can change up the feel of the room.
Painting particle board kitchen cabinets is a relatively easy and straight-forward process. With the right products and techniques, particle board kitchen cabinets can turn from dull to modern and stylish.
Preparing to Paint Kitchen Cabinets
Before you roll on the first layer of your chosen paint, the cabinets need to be primed so that all that hard work will pay off. Prepare an area with a tarp to lay cabinets down for priming and painting before you get started to handle any repairs, sanding needs and drips from painting.
Use a screwdriver to remove hinges, handles and all hardware from the cabinets. Label them in plastic sandwich bags and mark the door or drawer they came from for easy replacement after the paint job is complete.
At this point, make any needed repairs, such as gluing thin veneers back where they may be separating from the surface. Fill divots with wood glue or wood caulking, and sand down dings gently with a quick pass, using 225-grit sandpaper. Tape all of the areas where the particle board cabinets you plan to paint meet the wall, floor or ceiling.
Best Paint for Particle or Cork Board Kitchen Cabinets
Although it can be sanded, particle board kitchen cabinets can be made over quickly with an even coat of paint.
There are a few paints that work well with particle or cork board. But oil-based paint is the best for applying to particle board kitchen cabinets. This type of paint adheres easily and quickly while latex paint will pick up the bits of particle from the wood and create a rough surface, according to Better Homes & Gardens.
A high-gloss finish is easier to clean in high traffic areas like kitchens. Matte and eggshell finish paints will offer a muted and elegant style to a busy space. A second coat of paint will give a thicker finish that can last longer.
Apply an oil-based primer to corners and small areas. The primer should be allowed to dry for a good six hours before applying paint to the rest of the particle board cabinet surfaces. Use small strokes with a brush on edges and corners. A foam roller works well across large expanses of flat kitchen cupboard surfaces.
DIY Projects for Particle Board Kitchen Cabinets
A to-do board part in a kitchen is helpful and can be achieved by mounting a memo board to the cabinet. Use double-sided tape to attach a small dry erase board to the front of a cabinet that's close to an entrance or exit to remind you of important appointments or what to pick up at the grocery store. A cork board can also be placed within the recesses of the kitchen cabinet door and cut flush to the decorative edging, according to The Family Handyman.
If you want to stay away from mounting a dry erase memo board, then you can cover the front of each cabinet with chalkboard paint to use the surface as a to-do board in the kitchen. When painting decorative cabinets with edgings, though, only cover the recessed panel with chalkboard paint and a lighter, less-expensive product on any raised edges to achieve a more stylish, two-toned effect.
Be careful when placing a memo board with clips on a painted kitchen cabinet. The paint can chip when tough metal hits the soft material of the chipboard kitchen cupboard.
---
Kimberley McGee is an award-winning journalist with 20+ years of experience writing for a variety of clients, including The New York Times, Las Vegas Review-Journal Home section and other national publications. As a professional writer she has researched, interviewed sources and written about home improvement, interior design and related business trends. She earned a B.A. in Journalism from the University of Nevada, Las Vegas. Her full bio and clips can be viewed at www.vegaswriter.com.
View Work