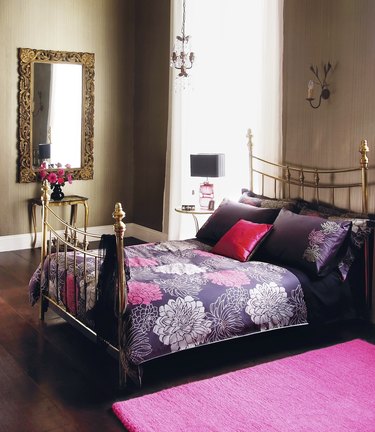 You don't really want to match all your bedroom furniture -- dull, dull, dull. The "great-taste-no-shortcuts" alternative is to harmonize the different pieces so they blend together as if a first-rate eye has selected them over a period of time. That flea market rocker, curbside nightstand, inherited dresser and antique-shop bed will coexist in gorgeous glory when you fiddle around with paint and fabric, and score the perfect accessories to link them.
Something Similar
Assemble a complete bedroom suite from disparate pieces with an eye toward design or material elements that have something in common. If grandma gave you her spool bed and a small vintage wood table in a similar wood tone, you're halfway there. Hunt for a nightstand in the same style of wood as the table and bed frame, turn the occasional table into a nightstand, and coordinate the two with matching lamps. Any other wood furniture in the room should echo the tones in the bed grouping or be painted to match the walls or trim. If mismatched pieces "feel" as if they belong together, you can get away with random acquisition. That means the style, the finish, the color, the heft and scale of the furniture should be somewhere in the same neighborhood so they harmonize in your bedroom.
Protective Coloration
Wield a mean paintbrush and whip that junk store bedroom into shape. An armoire, dresser, nightstand and wood bed frame become a coordinated, fab shabby chic-style bedroom with some crackle glaze, sandpaper and milk paint. Clean up the wood and remove the hardware. Sand and paint the pieces with a colorful base coat -- barn red, dark chocolate or forest green. Cover the dark color with one or two coats of cream or white milk paint, but build in some distress by following the directions to make the paint chip as it dries or add swatches of crackle glaze before the final coat to encourage the crazing that happens to old paint. Both faux techniques will reveal some of the color of the darker coat beneath the light finish. Add a little more visual wear by lightly sanding the edges, bedposts and the areas around handles where the paint would have worn away over the years.
Masquerading as a Match
The dressing table is a spectacular mirrored retro Art Deco pretender. You splurged on a less expensive copy of a clear polycarbonate ghost chair. Your bed is a discreet slab of wood that supports a mattress with a luxurious silver silk-polyester duvet cover. The dresser is a lump of brown veneer from the attic, and the white walls are boring. You're a DIY weekend away from a knock-out bedroom. Paint the dresser metallic silver and glue mirror panels to the sides and drawer fronts. Replace the clunky wood knobs with faux crystal from the home or hardware store. Paint the bed platform pewter or aluminum -- non-metallic -- to make it match a bit but mostly disappear. Paper one wall with black and metallic silver Art Deco wallpaper and haunt flea markets and thrift stores for old crystal lamp bases to refurbish for the vanity and nightstands.
Forging Links
A common thread can turn a garage sale of bedroom furniture into a chic retreat. Find an arresting fabric to stretch over the bed as a canopy, cover pillow shams for the bed and chair or bench, and fancy up a lampshade or the cushion on your desk chair. Pull colors from the fabric to shine against neutral walls -- white, pale gray, linen, or the merest hint of lilac, powder blue or blush pink is background to your decorative embellishments. A vibrant russet and lemon print might inspire a rust velvet bedspread, pale yellow ceramic bedside lamps, a lemon glass chandelier and russet raw silk roman shades. A subdued toast, cream and pewter print works with bamboo roll-up shades, gray-painted sawhorse desktop supports, a faded tobacco, cream and gray oriental rug and a gray chenille spread on the wrought-iron bed.
---
Benna Crawford has been a journalist and New York-based writer since 1997. Her work has appeared in USA Today, the San Francisco Chronicle, The New York Times, and in professional journals and trade publications. Crawford has a degree in theater, is a certified Prana Yoga instructor, and writes about fitness, performing and decorative arts, culture, sports, business and education .