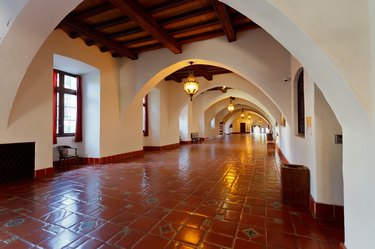 Spanish-style homes feature distinctive architectural details and an eclectic mix of Old World European, Spanish Colonial, Moorish and Mediterranean influences. Also referred to as Spanish Revival or Spanish Eclectic, this style first became popular in the early to mid-20th century and was prominent in California and the Southwest, as well as Texas and Florida.
Spanish Architecture
Walls and Floors
Specialized paint finishes designed to look like smooth stucco or plaster give walls the earthy texture common of Spanish-style interiors. Whitewashed walls contrast crisply with dark wood furnishings, ceiling beams and trim.Textured paint or faux textures created with color washes and sponging techniques also invoke a Mediterranean feel. Use earth-tone colors, starting with a light base of cream, sand or tan and then go two to three shades darker on the same paint chip for the glazed topcoat. Complement the walls with terra-cotta, stone or ceramic tile floors, or for more rustic flavor, use reclaimed wood on floors.
Rustic Furniture
Centuries of Moorish dominance in Spain left a strong cultural influence on Spanish Renaissance style-furniture. Heavy, imposing chairs, tables, cabinets and chests made from walnut, mahogany, cedar, chestnut and ebony commonly feature wrought-iron hardware and decorative inlays of bone, ivory, exotic wood and tortoiseshell. Other decorative elements include leather, tapestry fabric and nail-head trim. Moorish influences on sofas and benches include spires, arches, metal appliques and areas covered with rails and lacy carving.
Accents and Accessories
Add warmth and color to tile or wood flooring with colorful ethnic rugs. Hand-painted ceramic tiles in floral and geometric designs are commonly seen on stair risers, fireplaces, outdoor walls and fountains and on kitchen islands or backsplashes. Include rustic lighting in the form of wrought-iron chandeliers, pendants, wall sconces and large candelabras. Embellish walls with 18th-century oil paintings, iron accents and rich tapestries in colors of ochre, cinnamon, terra cotta, olive, bronze and gold. Earthenware urns, vessels and pottery provide classic Mediterranean flavor, as do copper pots and pans. For an infusion of color in the kitchen, display pottery on cabinets, shelves and counters.