If you want to dry sweaters, stuffed animals, pillows, sneakers or other delicate items in your dryer, using a dryer rack will prevent these items from tossing around. Dryer racks can also speed up the drying process for items that you would normally dry on a clothesline. The rack keeps your items still, preventing damage that may occur during a regular tumble dry. Take care to follow installation and drying instructions so as not to warp or ruin your delicate items.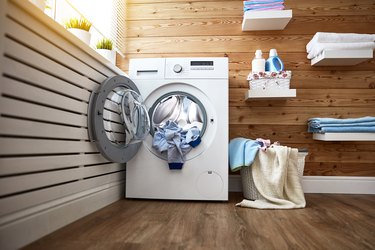 Installing The Rack
The process is simple and requires a few basic steps. With your dryer rack handy, open the dryer door. Place the rack inside the drum with the back wire on the ledge of the inner dryer back panel. To secure the rack in place, push the front edge down and secure it over the lint screen. Make sure the rack is in place properly and secure before you place items on top and begin the drying process.
Using Your Rack
To dry your items, place them on the dryer rack and close the door. Select an air cycle or a timed drying cycle and temperature depending on what needs to be dried. When choosing the proper time, press either "More Time" or "Less Time," and reset the time as needed. To begin, press and hold the "Hold to Start Button" for approximately one second. Remove the drying rack when complete as it cannot be used for automatic cycles.
Using the Timed Dry Option
Wool sweaters, along with stuffed toys and pillows that are filled with cotton or polyester, can be placed in a time dry cycle. Dry these items for 60 minutes at a low temperature. If not fully dried after one hour, add more time until your items are dry. For sweaters, lay your the garment flat on the rack and then shape, but do not overcrowd the rack. Before you place a stuffed toy in the dryer, squeeze out the excess water. With pillows, fluffing every 20 minutes during drying will increase fluffiness.
For stuffed toys or pillows that are foam rubber-filled and sneakers or canvas shoes, these should not be dried with heat. Using heat to dry shoes can warp the soles, so take care when placing your shoes in the dryer. When drying these items, select air only and dry for 90 minutes. Remember to squeeze the water out of the stuffed toys before you place them in the dryer. For sneakers or canvas shoes, remove the insoles and laces, if possible, before drying. Place them back inside your shoes once dry. If any items are not completely dry after an hour and 30 minutes, add additional time until they are dry fully.