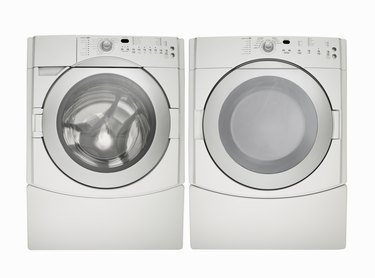 The Duet series of electric dryers manufactured by Whirlpool is equipped with electronic controls. Troubleshoot a dryer that is not working properly before calling for service. Minor issues can be resolved without assistance. If the display on the dryer shows an error code signaling that service is required, do not attempt to repair the machine at home. Call a qualified service technician to inspect the machine.
Does Not Run
Step 1
Inspect household fuses or breakers. Replace blown fuses or reset tripped breakers. The dryer is likely using two fuses or breakers. If the dryer continues to blow fuses or trip breakers, discontinue use and call an electrician.
Step 2
Close the dryer door firmly. The dryer will not operate if the door is ajar.
Step 3
Press and hold the "Start" button for five seconds. Large loads require holding the button in for a longer period of time.
Error Codes
Step 1
Check the display on the dryer for error codes.
Step 2
Press the "Start" button and hold for several seconds to restart the dryer if "PF" appears on the display. This code indicates that a power failure occurred during a drying cycle.
Step 3
Call a service technician if the display shows any code that begins with the letter "E." The dryer has encountered a problem that requires servicing.
Not Drying or Takes Too Long to Dry
Step 1
Clean the lint screen. Clean the screen after each load has dried.
Step 2
Restrict the amount of fabric softener sheets used. Use one sheet per load to avoid blocking the grille.
Step 3
Check the temperature of the room. The dryer requires a room temperature above 45 degrees Fahrenheit to function properly.
Step 4
Avoid using the "Air Only" temperature setting. Clothes will take longer to dry. Use an appropriate temperature setting for the type of clothing in the dryer.
Step 5
Remove some of the clothing in the dryer and dry smaller loads. Large loads cannot tumble freely and take longer to dry.
Noises
Step 1
Inspect the inside of the dryer for buttons, coins or other small objects. Remove loose objects in the drum and empty all pockets before drying.
Step 2
Level the dryer. Turn the legs clockwise or counter-clockwise to adjust. Continue adjusting until the dryer is level.
Step 3
Separate clothing that is tangled. This will cause the clothing to bounce when tumbled, and the dryer will make a vibrating noise.