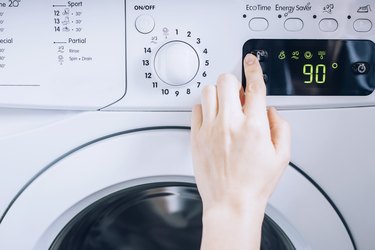 Week after week, the laundry pile never goes away. With a Kenmore dryer, you can make quick work of this unending chore. But even with the modern appliance's sophisticated technology, you can't just toss a wet load of laundry in the dryer and turn it on. Too much heat can ruin some garments, and too little heat leaves a musty smell on damp clothing. A Kenmore dryer has auto dry and timed dry, so you can make sure your clothes are clean, comfortable, undamaged, and dry. But it's up to you to know the difference so your laundry comes out perfect every time.
Using the Kenmore Auto-Dry Cycle
The auto-dry cycle is typically found on the dryer's setting dial with three options: less, normal, and more. After loading the wet laundry and selecting auto dry, the Kenmore auto moisture-sensing feature in the dryer detects heat levels and the dryness of the clothing to determine when to stop drying.
There's not a set amount of time that the auto-dry cycle will last. Rather, it will depend on the size of the load and the type of material being dried. Since it's less predictable when the dryer will finish its job, this may not be the ideal setting if you're on a tight schedule and need to know exactly when your clothes are ready to be folded or worn.
However, the auto-dry cycle on the normal setting provides optimum drying levels in the most efficient amount of time. The normal cycle saves energy as well, and who doesn't need a lower electric or gas utility bill?
Using the Kenmore Timed-Dry Option
On the other side of the dial, you'll find the timed-dry setting. Whether you have a Kenmore front-load or top-load model, this setting often allows you to select anywhere from 10 to 70 minutes of drying. Then, depending on your model, you may be able to select a dryer temperature of low, medium, or high.
Timed dry takes a more manual approach to drying your clothes. If you're very protective of your garments, you might rely on the timed dry option on low for a short amount of time to keep them in pristine condition rather than trusting the auto-dry time and temperatures that you have less control over. Kenmore only recommends using the timed-dry feature for damp clothing that needs a quick tumble dry. High heats for extended times can result in shrinkage, wrinkling, and general damage to your clothing.
Properly Drying Your Clothes
Your drying decisions can be the difference between heavenly and ruined clothing. Making your clothes look, feel, and smell great goes beyond auto dry versus timed dry. First, it's important to know your clothing materials and how to properly dry them. The Federal Trade Commission regulates the use of care tags on most clothing items, which use symbols to instruct the owner on how to keep the garment in good condition. The symbols will indicate whether a piece of clothing needs to be tumble dried, line dried, or laid flat to dry.
For perfectly dried laundry, it's important to keep the dryer vent clean. You might wipe out the lint from the lint trap after every load, but you'll need to actually vacuum out the dryer vent to keep your Kenmore dryer performing at an optimum level.
If your Kenmore dryer still isn't getting hot enough to dry your clothes, then you may need to complete some troubleshooting procedures, like removing a possible airflow blockage, to get your dryer to work again.