It was one of the first innovative designs that offered more control and more effective heat distribution than any of its competitors. A Fisher wood stove was created to not waste wood, air or heat. This made the early models constructed of heavy steel highly desirable when they first hit the market in the 1970s. While Fisher stove models are no longer produced in the United States, there are many older versions that continue to crank out heat efficiently and burn wood effectively.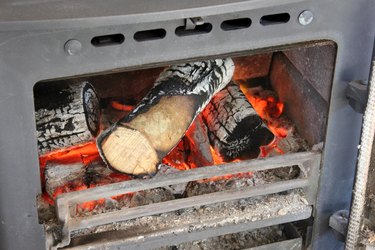 How to Identify a Fisher Wood Stove
The door of each Fisher wood-burner stove has an authentication mark. This proves that it is an original that was manufactured by Bob Fisher. He produced the doors himself and stamped "Fisher" on the door. The body of the Fisher wood heater was outsourced to be made by licensed manufacturers.
Fisher Stove Models
The bear models were the first that Bob Fisher produced. They required the use of a chimney to safely and effectively produce heat and burn wood. The stoves that were bought and installed in the '70s and early '80s are still in use today due to the well-crafted design and high-quality materials.
Papa Bear - These were built to heat large areas up to 2,250 square feet in a small amount of time. The hulking appliance weighs in at nearly 500 pounds with a 10- to 11-inch front door. It can handle large logs up to 30 inches and has two air intakes.


Mama Bear – This was the second stove Fisher developed. It is just over 400 pounds and can heat up a home or cabin of around 1,750 square feet. It can handle logs up to 24 inches and also has two air intakes for good flow.


Baby Bear – This baby is still a beast, weighing around 250 pounds and heating up a sizeable cabin or small 1,250 square-foot home. The door is 8 to 9 inches tall, and it has only one air intake. It can handle logs that are up to 18 inches long.
Fisher Fireplace Series
These were made with double doors with an 8-inch flue and are as large as the Baby Bear Fisher wood-stove series. A screen in front of the double doors allows the doors to be open and the flames of the fire to be seen, adding some ambiance to the room.
Grandma Bear – Only slightly smaller than Grandpa Bear, this Fisher wood-burning heater has a door that is 17 inches wide and is just over 10 inches tall. It can take 20-inch logs and heat up a home that is around 1,700 square feet.


Grandpa Bear – It has a wide top plate measuring 29.5 inches across and handles 24-inch logs. It can heat a 2,250 square-foot home. The door is 22 inches wide by 11 inches tall.


XL – This is the largest of the Fisher wood-stove models. It has two doors and a 10-inch flue. It can heat a whopping 3,000 square feet of indoor space.
Fisher Fireplace Inserts
The fireplace inserts were meant to fit over an existing fireplace cavern. They were made in cast iron and brass and had glass doors. The smaller Honey Bear insert was for 1,200 square-foot spaces, and the Polar Bear insert was for fabricated metal fireplaces or those with zero clearance.
Fisher Pedestal Stoves
Fisher tweaked the design to be included in mobile homes.
The Goldilocks was Fisher's first foray into the pedestal-type stove. It has an outdoor intake through the center pedestal with no intake through the doors of the stove. It can handle logs up to 16 inches.