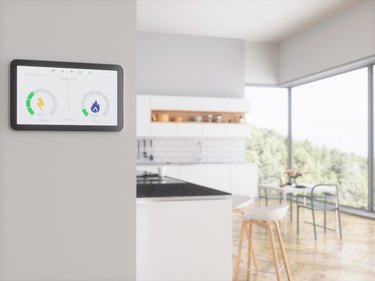 In an era when everything from stoves to sneakers can be labeled as "smart," it can be tough to know what really makes an appliance so smart. It all depends on connectivity, and learning more about connected devices will allow you to take advantage of many of the helpful features available in smart appliances.
Internet of Things
If an appliance is smart, it's one that you can connect to via your smartphone or tablet. This allows you to better control your appliance remotely, which can bring new levels of convenience, efficiency, safety and peace of mind to your life. For instance, if you're the kind of person who always wonders if you left the stove running, you can check the app while you're on the go to see if you did — and turn your smart stove off right from the app if needed.
This level of connectivity between devices is typically referred to as the Internet of Things, which is a broad term that encompasses the ways that devices connect to the internet and collect data that helps them perform in smarter ways.
Benefits of Connection
There are many ways that smart appliances can make your life easier and more efficient:
Energy Efficiency: This is one of the biggest potential benefits for smart appliances. They work to collect data about their usage and then adjust to help consumers cut back on consumption. For instance, a smart thermostat can recognize the times of the day that you don't need as much heat and adjust accordingly. Even those small changes can help to make a dent in your home's energy consumption and cut back on your bills.
Accessibility: For some people with disabilities or injuries, the ability to control devices via voice activation or an app can be a game-changer that allows them to live more independently and conveniently.
Safety: Being able to control appliances remotely allows you to minimize the risk of leaving hot appliances on longer than they should be. Some appliances, such as a smart oven with a smart range, also have controls that keep kids away from these dangerous appliances.
Security: Some smart appliances can be tools that are far more efficient and affordable than installing an entire home security system. Smart light bulbs, for instance, can be a great resource to periodically light your home while you're on vacation to deter intruders, and smart security cameras can help you keep an eye on your home while you're sitting in your office.
How to Use Smart Appliances
The best way to start using smart appliances is to figure out what your biggest needs are. Maybe you're always forgetting to turn off your lights or have trouble managing your energy-sucking bright outdoor bulbs. It could be time to buy some energy-efficient smart bulbs.
Other popular options include fridges, stoves and ovens. When smart, these appliances can help you recognize when food is past its prime or give you the ability to see how your cake is doing in the oven without having to open the door.
Perhaps you feel like you spend your whole life doing laundry. It could be time to invest in a smart washer and dryer that you can connect to a smart drum washer app that balances the load so you're not wasting any time dealing with items that come out too wet or wrinkled.
Once you figure out the right smart appliances for you, you can figure out the best ways to connect and make your life a little easier.