Warning
Always remember that garage doors weigh several hundred pounds and can cause serious injury or death. Call an authorized technician for assistance or if problems occur.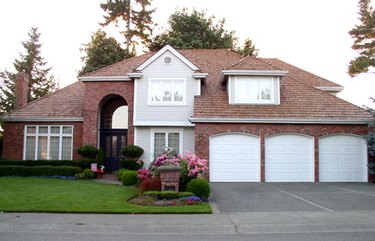 The Chamberlain Co. manufactures several devices for the home and garage, including intercoms, alarm systems, garage doors and garage door openers. Chamberlain garage doors should only be installed by an authorized technician and should only be operated by adults. Children should never play near garage doors when the opener is in use. Once installed, Chamberlain garage doors should work well for several years without difficulty, but if issues arise, some troubleshooting efforts may resolve the problem.
Step 1
Ensure the safety reversing sensor (located right inside the garage door) is connected and aligned properly if the lights on the garage door opener flash but the door will not close. If the sensor path is blocked, the garage door will not operate.
Step 2
Alter the travel adjustments if the door is stopping short of the desired point on the ground. Leave the door open and turn the adjustment screws, located on the side of the overhead motor. Turn the screws one full turn in a counterclockwise motion towards the decrease button. One turn equals about 2 inches of travel on the garage door. Always test the door after performing an adjustment.
Step 3
Leave the garage door closed and resting on the ground if the garage door will not open. This may be caused by extreme weather conditions or rain. Lift the door manually by pulling the red manual release handle. If the door opens smoothly, close the door and leave it unattached while operating the garage door opener. This will pass the inner trolley through the outer trolley without reconnecting. If the door opener works smoothly, locate the open and close force adjustments on the back or side panel. Mark the current setting on the up force adjustment and increase it by 10 degrees. Reconnect the door and test before using.
Step 4
Check to see if the LED sensor is glowing or flickering if the garage door reverses while opening. The sensors may be seeing an obstruction, which causes the door to reverse. Remove any possible obstacles. If there are no obstacles to the door closing, press the wall button and hold until the door closes automatically.