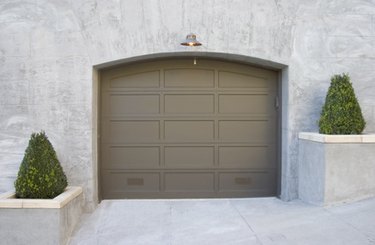 Each of the several models of the Craftsman 1/2 HP garage door opener is operated by a chain drive. Most of the features and functions on each model work in the same way. When problems arise, following some basic troubleshooting steps will help diagnose the cause of the problem. The owner can resolve most everyday issues with Craftsman 1/2 HP garage door openers.
Door Doesn't Open
Step 1
Make sure the outlet has power. Plug another device into the outlet to make sure it is working.
Step 2
Check the fuse box or circuit breakers. If fuses are blown, replace them. If circuits are tripped, reset them.
Step 3
Check the bottom of the garage door for snow and ice. A buildup of snow or ice can freeze the door to the ground. Clear away ice and snow on the bottom of the garage door.
Step 4
If the garage door has been repeatedly used, this may have tripped the overload protector in the motor. Wait for 15 minutes for the overload protector to reset before operating the garage door opener again.
Step 5
Check the door for anything that may be obstructing it. Remove any objects that are blocking the door from opening.
Step 6
Increase the up force if the door doesn't open completely. Turn the "Up" force knob clockwise to increase the open force. The "Up" force knob is usually located on the right panel of the unit, indicated by an up arrow.
Other Issues
Step 1
Extend the antenna on the back of the motor unit downward fully if the range of the remote is insufficient.
Step 2
Make sure the lock feature is turned off if the door open button flashes but doesn't open the door. Check the garage door to ensure the manual lock is not engaged.
Step 3
Clear the memory and reprogram all of the remote controls if the garage door opens or closes on its own.
Step 4
Replace the lightbulb in the motor unit if the opener lights do not turn on.