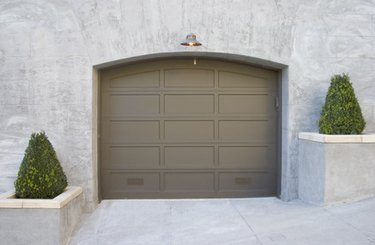 A popular brand of garage door openers, Legacy systems can be programmed to a variety of garage doors. This overhead door system allows you to set your remotes to sync to the transmitter in just minutes. Programming requires no previous experience and can be done from inside of your garage. Once programmed, you can reset or reprogram your remotes and your system as often as you would like for the sake of convenience or security.
Step 1
Enter your garage with your Legacy remote opener and your motor unit installed and plugged in.
Step 2
Locate and press the "smart" button on your Legacy unit. It should be located on the side of the unit by the antenna wire.
Step 3
Wait for the unit's indicator light to begin flashing and press the button you wish to program as the "Open" button on your Legacy remote. At this point the the motor unit will flash the main light and the LED light will continue flashing.
Step 4
Wait for the LED light to stop flashing after 30 seconds and press the "Open" button on your Legacy remote to test the programming.
---
Matthew Fortuna is a full-time freelance writer with a journalism degree from Wayne State University, living in the Detroit metropolitan area. He has written about a wide range of topics across varying publications, including Demand Studios, wiseGEEK.com and Suite101.com, among others. He holds a Bachelor of Arts in journalism from Wayne State University.