The rule of thumb is that you should change your mattress every eight to 10 years. Some manufacturers stick with the rule "replace every eight," but other sleeping spots can stay comfy and cozy for a good decade. There's no real scientific way to determine the age of your mattress unless it has a production date, but there are few ways to guess.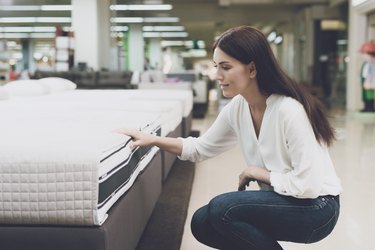 Check the Manufacturer's Tag
The manufacturer's tag on your mattress is legally there to note its stuffing materials. This is helpful if you develop allergies. You can check the contents of your mattress to ensure that you're not allergic to anything inside. All mattresses are required by law to have a tag. It may also have the date your mattress was made. Check underneath the registry number on the bottom of the tag. The month and year the mattress was approved to be sold may be there.
If there isn't a date, the tag will contain the manufacturer's name. It may also contain the mattresses name or model. A quick search online with this information can provide similar products and the year it was produced. If nothing is found online, call the manufacturer directly and describe the warranty information on your tag. Their database should have a range of years the mattress was created and sold.
The tag may also have a red or yellow color on it to indicate that mattress may contain used materials. This blurs the line when trying to determine the age of your mattress. Used materials will not have a date on the tag. If your mattress is showing signs of age and has a red or yellow color, it may be time to replace.
Visual Inspection
Is your mattress sagging, yellowed or torn in any way? Cat owners know that their pets can use mattress ends as scratching posts, and parents know that their children sometimes see the bed as a trampoline. Normal wear is expected. You use your mattress every night, so some dips and stains are par for the course. But how bad are they? Sagging mattresses do not provide a restful night and torn mattresses can lose stuffing. A newer mattress will have a string response when pressing down on it. If you press on the mattress and it is slow to reshape, it is more than a few years old. If there are excessive tears, large stains or discoloration, it means that your mattress has a few years on it and it's time for a change.
Sleep Suffers
The main reason you may need to know the age of your mattress is because you're thinking of getting rid of it. If your sleep is suffering due to an uncomfortable mattress that pokes or sags or is causing sneezing from dust, mites or allegories, the age doesn't matter. Round up the years to eight and go ahead and find a mattress that offers the support you need to get a good night's rest.
---
Nat Howard is a writer, editor, journalist, and jack-of-all-trades, covering topics from home improvement and design to healthcare and career advice.