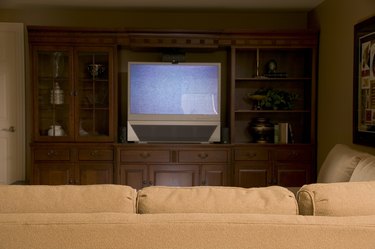 Unless you buy furniture designed specifically for use with televisions, stereo systems, video game consoles and DVD or Blu-Ray players, there probably won't be holes in the back for cables. This is especially true if you are using antique buffets or armoires as entertainment centers. If you don't mind slightly damaging the integrity of the piece, you can drill a small hole in the back, where nobody will see it, to connect your devices to each other.
Step 1
Place the electronic device in its intended location to determine where to drill the hole. Make a mark that is about parallel with the cable outlet on the back of the device. Note that this doesn't have to be exact -- you just need a ballpark measurement so you don't drill through a shelf.
Step 2
Remove any equipment that may interfere with the drilling process. If there is a TV on top of the piece of furniture, take it off and set it aside. The vibrations from the drilling could shake the TV right off of the stand.
Step 3
Compare the end of the cable to your drill bits. While the threading of the end of a length of cable is universal, the casing may not be. You will likely need a bit between 1/4 and 1/2 inch, unless you have any electric plugs that need to pass through the hole, then you will need a larger, spade bit. Place the bit in your drill and tighten it by hand so the bit is secure.
Step 4
Place the head of the bit at the mark you made earlier and start the drill slowly. Gently apply pressure to guide the drill bit through the wood -- don't press too hard. Push the bit through to the other side of the wood. Keep the drill running as you pull the bit back through the wood.
Step 5
Wipe up the dust created by the drill. Try threading the cable through the hole -- if it doesn't fit, use a slightly larger bit to enlarge the hole. Drill additional holes if necessary for additional cables.