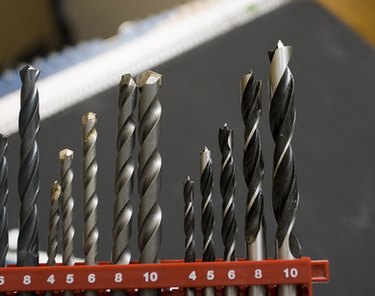 Ryobi offers a variety of 18-volt drills, many of which are cordless and designed to perform building tasks almost anywhere. These drills operate on rechargeable lithium-ion batteries, and include a conveniently placed magnetic bit holder. This holder stores the drill's other bits when they are not in use. You may wish to change the drill's bit depending on the type of project you are working on. Some projects require a larger or smaller bit size than others. A bit can be removed and replaced in just a few minutes.
Step 1
Turn the drill's rotation selector to its center position to lock the switch trigger, then open the chuck jaws by rotating the chuck sleeve clockwise. Remove the bit you wish to change.
Step 2
Rotate the chuck sleeve so that the chuck jaws are open slightly larger than your new bit. Lift the front of the drill up at a slight angle so that the bit does not fall out when inserted.
Step 3
Insert the new bit into the chuck jaws. Turn the chuck sleeve clockwise to lock the bit in place.